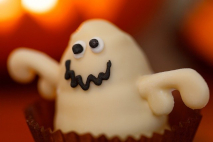 First it was fake small-batch bourbon, then fake craft beer, and now we have to look out for the Ghost Kitchens:
Enter the ghost kitchen—also called a virtual kitchen, virtual restaurant, cloud kitchen, or dark kitchen—a nascent internet-native business model that is spreading around the world.

When a virtual restaurant shows up in a delivery app, it may be indistinguishable from a brick-and-mortar pizza shop or mom-and-pop noodle joint, but it's fundamentally different. The virtual restaurant is optimized for generating orders online and handing them to delivery drivers, and the name that's advertised may not exist outside of the internet. Additionally, the menu and branding might have been created by a tech firm.

[…]

Sometimes a restaurant may advertise multiple menus under different names online but cook all the food out of one kitchen. That's what was happening in April, when the story of one Philadelphia woman's experience went viral. She had ordered from Pasqually's Pizza & Wings on Grubhub, thinking she was supporting a local independent restaurant but then realized it was owned by and operated out of her local Chuck E. Cheese.
Modern life under capitalism requires eternal vigilance….