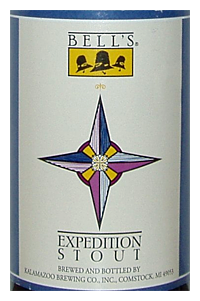 Bell's Expedition Stout.
It's very good if you like the strong (tasting) stuff. It's also unusually thick. And very very low in fizz, which is fine with me but I suppose might bother some purists.
Apparently it's only available in winter, and in eleven oddly non-contiguous states: I defy anyone to figure out the pattern in FL, IN, KY, MI, MN, MO, NC, ND, OH, PA, VA, WI.
It's also on the expensive side, although no worse than 60-minute Dogfish IPA.
Then again, at 10.5% alcohol I'm only going to have one at a sitting if I plan to stay awake.
The back label suggests that "it's perfectly content to sit quietly in your cellar, aging and improving." Well, fat chance of that. And not just because homes in South Florida don't have basements.
Previous beer blogging: