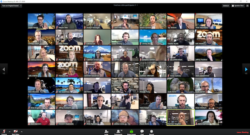 The University of Miami just announced new anti-COVID policies for the start of the Spring Semester. Among them:
First, classes will start on time Tuesday, January 18, 2022. However, we will pivot to remote instruction for the first two weeks of the spring semester, with in-person instruction resuming on January 31. All orientation activities will be held remotely as scheduled. Students in clinical rotations will be permitted to continue as scheduled, subject to requirements of their host sites.
Only staff who have been on campus directly supporting students and faculty should return to on-site work next week as planned, while those who are now working remotely will be expected back in person on January 31.
Proof of a negative COVID test within 48 to 72 hours of arrival on campus will be required for returning students, and residential students will test again upon arrival. If you feel unwell, delay your return to campus until you are better, and we strongly encourage those traveling to have a negative test before making their way to Miami.
This is smart in two ways. First, it means our classes will not contribute to the spread of the new variant while it is most prevalent in the population. Second, it creates a two-week period for students who caught something at home or in transit to figure it out and, in most cases, get over it.
I gather a lot of universities around the country are doing something similar. The longer this goes on, of course, the more it will have a permanent effect on higher education in general and law teaching in particular.