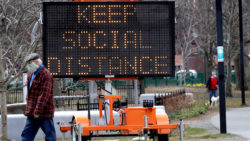 This morning's Herald reports,
On Wednesday, the University of Miami in an email announced "financial mitigation actions," effective immediately, to reduce expenses across the university, including its healthcare system, UHealth.

"Today's highly uncertain economic environment poses serious financial implications for our University, as well as for our health care system, UHealth," the email read. "These are unprecedented times, which require significant measures."

Those measures include a hiring freeze, a postponement of merit-based pay raises, significantly reduced or eliminated non-essential, non-salary expenses, delaying planned construction projects until 2022, tapping into unrestricted donor funds and expanding its freshman class from about 2,200 to 2,350.

The email, written by Jeffrey L. Duerk, executive vice president for academic affairs and provost, and Jacqueline Travisano, executive vice president for business and finance and chief operating officer, signaled more cuts could come.
That this University, much like all others, faces financial problems is a given: From a financial flows point of view we're a large hospital with a smallish university attached. And hospitals are being hammered two ways: large, unexpected, COVID-19-related costs, and a collapse of other sorts of revenue as patients put off elective and even necessary surgery. So it seems likely we are in for it.
That said, is it realistic for the College to plan on a larger entering Freshman class? I worry that (sensible) people will still be avoiding crowds — and maybe everyone — in early Fall, and indeed until we have a reliable vaccine. And the most optimistic estimates I've seen for a reliable vaccine put FDA approval in early 2021; even then, production will doubtless take time also.