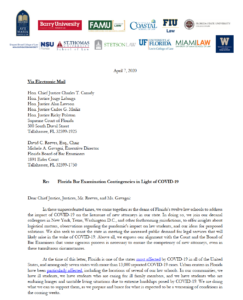 It's official: Florida's Law School Deans Ask State Supreme Court to Offer September Bar Exam.  Per the DBR,
University of Miami School of Law Dean Anthony Varona led the effort to draft and disseminate the letter, and acknowledged the striking nature of the requests.

"Our letter was the result of an extraordinary team effort, that resulted in a letter proposing extraordinary measures—all reflecting the extraordinary challenges faced by our graduating students, the legal profession as a whole, and the society that depends on us for legal services," Varona said.
Full text of the Florida Deans' Letter re COVID-19. It is a very good letter, carefully crafted for its audience, one which if rumor is to be believed has absolutely no chance in hell of adopting a Wisconsin-like plan of just waiving in graduates of Florida law schools without an exam. So the question then becomes, what is the next-best plan. The Deans suggest a very complex plan to administer the bar exam — all over the state — in socially distanced law school classrooms, or alternately to extend the existing Certified Legal Intern (CLI) program to permit graduates who clear their character and fitness investigation to practice law under supervision until they have the opportunity to pass the bar exam. Currently that program is limited to actual law students; the proposal is a one-time change to extend it a couple of years beyond graduation.