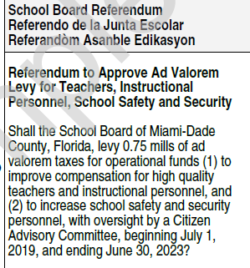 The School Board has a proposal on the ballot for a 0.75 mil tax on property to support schools.  The tax would sunset in 2023.  The proposal is projected to raise $232 million per year. School Board members have pledged that 88 percent will go to teacher salaries and 12 percent to hiring new school security guards. If approved, the tax hike would  increase property tax  $0.75 per every $1,000 of assessed property value.  That would cost the typical homeowner $142 a year.
TL/DR – Vote for the School Board referendum
There are three reasons to vote for this, and one that leans against, so I think the ayes have it.
The reasons to be for this tax are:
 The schools need the money, and teachers are in the main underpaid. (Although exactly which teachers will get what remains to be determined; and maybe we'd like to use some for more teachers?)
The legislature has required that school hire security guards, but didn't provide the funds for it. If we don't fund that unfunded mandate through this increase, the money will come out of the budget for teachers and buildings.
Other counties, including Broward, have passed similar taxes and are raising teacher salaries.  According to WLRN, 40% of Miami-Dade teachers live in Broward, so if this doesn't pass we risk losing our best teachers to a northern competitor.
The reason to vote against this is based Miami-Dade's long history of misusing voter-approved tax increases.  History suggests that earmarked money for one goal tends to crowd out other spending and we don't end up much ahead in the long run.  Perhaps this time will be different because this is the School Board and not the whole Commission, so all the spending has to go on education. Maybe.
But the fact is that, given the unfunded mandate from the state legislature if nothing else, we really have no choice but to approve this tax.
---
Links to other November 2018 election guides: