There are 12 ballot items relating to the Florida Constitution, due largely to the work of the Constitutional Revision Commission which had its 20-year meeting. They voted out a lot of amendments, then — wrongly, I'd argue — grouped them so that we don't get to vote on each one individually. That is wrong on principle, and also I think bad in practice as the ballot has become even more opaque than usual.
TL/DR on Amendments
Amendment 1: NO
Amendment 2: NO
Amendment 3: YES
Amendment 4: YES!!!!
Amendment 5: NO
Amendment 6: NO
Amendment 7: NO (Note: there is no #8)
Amendment 9: YES
Amendment 10: NO
Amendment 11: YES
Amendment 12: YES
Amendment 13: YES
In this, the first of two posts on the Constitutional Amendments, I'm going to outline why you should vote NO on six of the twelve, ## 1,2, 5, 6, 7 & 10. My next post in this series will be about why you should vote YES on the other six, ## 3,4, 9, 11, 12 & 13.
It's important to vote NO on these six proposals because not voting is almost as bad as a yes vote: in order to pass, a proposal must get 60% approval of those who vote on the issue–not 60% of those who vote as a whole. Skip voting on any one of these and you increase the odds of its passage.

Amendments 1 & 2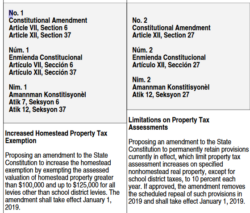 Both these amendments put tax rules in the Constitution, and Amendment 2 does it in a particularly evil and toxic way. I think that is a generally a mistake to put tax limits in the state constitution, as it ties the legislature's hands. That is, however, often the goal of such attempts: 'starve the beast' of revenue and hope the state withers away, or becomes so ineffectual and incompetent that voters turn on it. In fact, however, what tax limits of this type do is not just prevent worthy ends but also cause weird, and usually unfair, tax games when legislatures try to raise needed revenue in some other way.
Amendment 1 may pass: it doubles the homestead property tax exemption, and most taxpayers will think they benefit from that; in fact, the legislature will just find the money elsewhere.
Amendment 2 is worse: it puts a permanent 10% cap on increases in property-tax value for non-homestead property. That's the current policy, but we've been in a low-inflation environment for a long time. If inflation comes back, this amendment could be a real problem. Why tie the legislature's hands in emergencies or inflationary spirals? Especially as for now we've got that cap anyway? Vote NO.
Amendment 5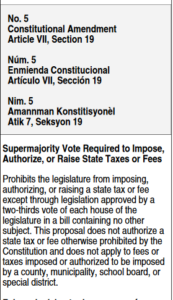 This one is bad. It would require a 2/3 vote of the legislature to increase any new or increased tax or fee. In other words, Not Going to Happen. Given we've just had 20 years of Republican rule, the goal here is to handcuff any future Democratic administration (spelled G-I-L-L-U-M) so it could not get any part its program through the legislature. Want better schools? Want more environmental protection? Want planning for global warming? Want the state to put up 10% of the cost of expanding Medicaid, so that the feds would put up the other 90%? None of those things are going to happen, nor much of anything else, if this poison pill of an amendment passes. And, by the way, I oppose putting tax policies (as opposed to defining taxing authority) into state Constitutions.
Amendment 6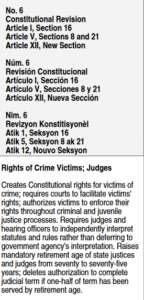 This one is especially opaque. It does three things, one very bad, one kinda bad, one meh.
The first, and worst, sounds good but actually is not: Under the guise of taking existing victims' rights that are now statutory and entrenching them in the Florida Constitution, the provision would in fact undermine defendants' rights and, perhaps even more significantly, would extend a number of rights currently given to human victims to corporate victims. That alone should be a reason to vote against Amendment 6. Don't be fooled by those great commercials with Kelsey Grammer, or the tearful female victim asking "what about MY rights": her rights are already substantially protected in the state constitution, or in statute. Currently human victims in Florida have the right to be heard, and the right to be present in all stages of the proceedings whether it be the filing of charges, arraignment, trial as well as sentencing. They have the right to be informed on what is happening with the case. The only thing they don't have which this amendment would give them, is the right to assert rights which would undermine the state constitutional rights of the accused. What's really going on here is that corporations want all the rights human victims have in order to bring a lawyer into to court to urge bringing the hammer down on anyone accused of hurting the company, from shoplifters to protestors. Can't we trust prosecutors to do their jobs on those cases?
In addition, the Constitutional Review Commission bundled a proposal to raise the retirement age of judges from 70 to 75, and a ban Chevron-like reasoning (deference to an agency's reasonable statutory interpretations) in Florida state courts. In principle, I'm not a great fan of mandatory retirement ages for judges. (I might favor fixed rather than life terms, which is a different issue entirely, but we have retention in Florida, so that's less of an issue.) It is striking, however, that this rule change is timed to coincide with there being a majority of GOP-appointed judges on the state Supreme Court, and full Republican control of the appellate courts. In other words, the (quite intentional) effect of this rule is to provide fewer judicial vacancies for any future Democratic administration (spelled G-I-L-L-U-M) to fill. Were this prevision sitting alone, I might struggle with how I felt about it–principle vs practice. But the first part, the so-called 'victims' rights' part is so bad, that I don't need to struggle here.
Last, and maybe least, the proposal would enact a Republican anti-Chevron shibboleth about federal law into Florida law. That's a bit weird. While I am actually not a great fan of the federal Chevron doctrine (which instructs federal courts to defer to reasonable even if imperfect agency interpretations of statutes), its effects at the federal level are not as big as they may sound, and I think the stakes are smaller on this issue in state court. The effect of this rule would be to require judges to decide the statutory question de novo. I don't think that would actually change very much. But again, it doesn't matter: we should all vote against Amendment 6 on the grounds that the so-called victims' rights provision is mostly a con job.
Amendment 7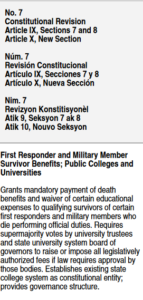 Another bundle. This proposal would make it harder for state universities to increase their fees by imposing a supermajority requirement on boards of trustees and the state Board of Governors. I don't see why this belongs in the Constitution, and I don't think it is such a great policy either. The problem we have with Universities is underfunding. This won't help. Yes, I'd rather funding was from general revenues than from fees, but that isn't how this is going to play out.
In addition, Amendment 7 creates a constitutional requirement for state and local governments to pay death benefits to first responders, and also to members of the US military who are resident in Florida or stationed here. Note, however, that nothings is said about how to pay for it (nor how this meshes with Amendment 5). This is another one of those amendments introduced to make people who care about good government look bad–how dare you oppose death benefits for first responders? Police and fire have unions that already negotiate their benefits. It may be that paramedics don't, but that would not be worth an amendment when it could be addressed by legislation. Why the State of Florida should be paying benefits to soldiers, sailors, airmen, coast guards or marines all of whom are hired, directed, and paid by the federal government is not clear to me. And in the awful eventuality that there were a big war and lots of casualties, why would the state have to pay all this as opposed to the burden being national where it belongs? I can't see the policy sense of constitutionalizing this, nor the policy basis for it either. Incidentally, the State of Florida already offers death benefits to National Guardsmen killed in the line of duty. Why a policy of extending this to the full-time armed services belongs in the Constitution, I don't understand. And I wouldn't support it unless someone could explain both why this isn't the federal government's job, and how we were going to pay for it.
Amendment 10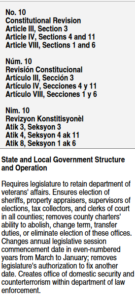 Another bundle. All four parts are bad or pointless.
1) This amendment would force Miami-Dade county to elect a Sheriff instead of having an appointed official who reports to an elected authority. Miami-Dade county is the only county in Florida that doesn't elect its chief law enforcement officer. There are two reasons to oppose this amendment. The practical reason is that the current arrangement, which is common in urban areas around the country, has suited us well enough; there's certainly no reason I can see to think making our top cop elected would be good for us. The principled reason is that choosing how we choose our top cop has been a part of the County's right to home rule for a long time. Why should the voters in other parts of the state get to decide on how we organize the County?
2) Another part of the bundle would require an Office of Domestic Security and Counter-terrorism within the state Dept. of Law Enforcement and make it the lead agency in terrorism investigations and responses. Again, why constitutionalize this? I'm not at all sure it's a good idea, but if it is, then surely we can do this by statute and then have the liberty to change course as circumstances require?
3) Similarly, why does the Constitution need to mandate a Dept. of Veteran's Affairs? Will that make Veteran's lives better in any way?
4) The proposal also would fix in stone the current practice of having the Legislature meet earlier in the year in even-numbered (i.e. election) years. Probably a good idea, but we're already doing it, so this is unnecessary.
Bottom line: one bad, one dubious, and two window-dressing elements. Vote NO.
Links to other November 2018 election guides: