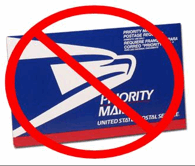 No package in today's mail.
According to the USPS FAQ
Lost or Delayed Mailpieces

If You Have the Label ID number from the Mailing Label or Receipt (Sender or Recipient): If you suspect that your mailpiece has been lost or delayed and you have a tracking number for your item, please contact our Track & Confirm customer service at 1-800-222-1811.
So I called the number. I navigated the voice mail prompts. (No, it's not an international package; no it didn't come from abroad.) I input my looong tracking number. The USPS robot says "no tracking information is available". And there are no other options that sound relevant. And no, it won't put me through to a human.
Clicking on the Track & Confirm – Customer Assistance FAQ found at the USPS FAQ for Track and Confirm produces
com.silknet.ebiz.util.SilkException: Invalid Reference Name
Which kind of sums it up.