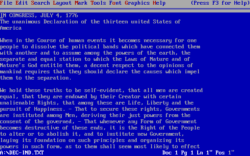 WordPerfect 5.1 for DOS […] was the greatest word processor ever—a blank screen illuminated with only letters and numbers, offering just enough bold and italics to keep things interesting. I remember WP51 the way a non-nerd might remember a vintage Mustang. You could just take that thing out and go, man.
— Paul Ford, What Modern Humans Can Learn From Ancient Software (Wired, Sept. 15, 2022).
I hate everything about MS Word except "Track Changes" which I admit they did pretty well — the only way in which it is better than WordPerfect, even in its modern, adulterated, Windows versions.