TL/DR: I'm voting for Melissa Castro in Group 4, and Ariel Fernandez in Group 5, in the upcoming Coral Gables Commission election. Please don't forget to vote.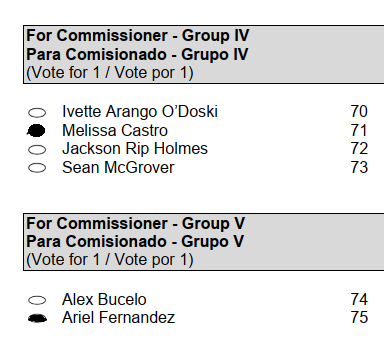 Absentee ballots have dropped for the Coral Gables Commission election that is due to take place on Tuesday, April 11, 2023: Residents can vote early or drop off mail-in ballots at the Coral Gables War Memorial Youth Center, 405 University Drive, on April 1, April 2 and April 8 from 7 a.m. to 7 p.m. — or in person on Election Day at your assigned precinct.
Three seats on the five-person commission are up this year, but one of the seats won't be on the ballot as Mayor Vince Lago ran unopposed, so he is automatically re-elected to another two-year term. (Ordinary Commissioners get four-year terms.)
I think that the most important issue this year is the candidates' stand on (over)development. And, not unrelatedly, the defining feature of the two contested races is a break with the gentility that used to mark Commission elections, in that Mayor Lago's electoral machine and the state Republican party have set up a slate of candidates, and poured money—much of it from out of town and/or developers—into the coffers of their favored pro-overdevelopment candidates. That's two strikes against those candidates right there.
Another notable feature of the Group 5 race is that, despite signing a pledge to take the high road, one of the candidates has resorted to low-road (dare I say slime-ball?) tactics much like those we see in state and federal races. For Alex Bucelo, that makes three strikes, and you should vote for his opponent, despite his imperfections.
Let's start with some substance. I want to be very clear: I am not one of those NIMBYs who opposes all development. If you go back deep into the archives in this blog, you will see me arguing that Coral Gables needs to allow more growth to survive, and that the height limit in the downtown district of Miracle Mile needed relaxing. I still think that was right; preserving the old small-town look of the Gables was not sustainable; the City needed and needs to be more than something most people drive through.
The problem today is that we went too far in the other direction. And rather than enforcing a more relaxed Building Code, the Commission and its staff are handing out too many variances for height and density for insufficient reasons and/or minor concessions. (A couple of trolleys donated to the City won't fix traffic issues caused by major development.) The results include the ginormous development a few blocks south of Miracle Mile, and (less horribly) the various new buildings that crowd oppressively right up to U.S. 1 along the corridor from Red Road to Lejune. There's more in the pipeline, as developers seek to close roads and build on them, or steamroller the city into agreeing to approve plans for new large buildings sight unseen (yes, really).
Group 4
There are four candidates in Group 4.
Two of them are not serious candidates. Jackson "Rip" Holmes seems to run for the Coral Gables Commission as a regular hobby. Freed from the need to watch his words, once in a while he drops an unvarnished truth that other candidates might not dare, but most of the time he is, well, kinda loopy. Thus, for example, at the PTA-sponsored candidates' forum, Holmes aptly described himself as "the craziest candidate" and then went on to prove it by claiming we don't need to worry about rising sea levels because we are going to get "free energy" via "heavy seawater". (Yes, seawater might be a clean energy source someday, but not at zero-cost; "carbon-free" doesn't mean "cost-free".)
Sean Patrick McGrover is not as loopy, but there's no reason to vote for him. His claims for your vote seem to center on not being a lawyer, and making himself available to voters 24/7.  And he's (probably justly) mad at the permitting department for how it treated him (I've been there….).
The serious candidates are Ivette Arango O'Doski and Melissa Castro. Ms. O'Doski, a UM Law grad, is formidable. She speaks well (if in a rather coached fashion), is organized, has relevant experience–as a former Vice-President for the Miami-Dade Beacon Council–and likely has a political future. The problem is that while she claims to be against unbridled growth, she's supported financially and politically by the machine that wants to continue to overdevelop Coral Gables. Vince Lago endorsed her, which is not the plus it used to be. And look at her donor lists.
Ms. O'Doski has been careful to pitch herself in a way designed not to offend those who worry the Commission has overdone the mega-developments and the variances. You have to parse what she says carefully to realize how little she's actually promising in terms of slowing the developers. Which is hardly surprising given that she's on the Lago team. While it seems very likely that Ms. O'Doski is ready to execute the mission, and will do so with efficiency, you have to ask what mission that will be.
Melissa Castro is not as polished (nor as rehearsed). She runs a small local business she inherited, after a previous career as a psychologist. She projects a caring and sensible persona, but not as sound-bite oriented as Ms. O'Doski. Listening to her felt more like listening to an intelligent and concerned neighbor. It was good, but since I have a bias for organized lawyers, I didn't think this was as good as listening to Ms. O'Doski. I worry a bit that Ms. Castro might not hit the ground running as well as Ms. O'Doski. Nevertheless, I feel more confident that those of us who are concerned about the pace of development in the city will find not just an ear but, ultimately, a voice if she's elected. So I'm going to vote for Melissa Castro in Group 4.
Group 5
Just two candidates here: Alex Bucelo and Ariel Fernandez. Both have run unsuccessful races for Commission before.
Alex Bucelo has a law degree from St. Thomas. His website promises that he will "Oppose large-scale development," but he is endorsed by the Lago machine. A chunk of his overflowing campaign war chest comes from out of town, or from developers, financiers, and their family or companies. Together that's reason enough to vote against him if there's a suitable alternative (we'll get to that in a minute).
I actually voted reluctantly for Bucelo in 2021 given the nature of the opposition. But as someone who often writes about privacy law and policy, I now have an additional reason why I'm in an almost-anyone-but-Bucelo camp: During one of the candidate debates, Bucelo was pandering to local fears about crime. That alone is so common, alas, that you can't use it as a sorting principle. But Bucelo gave the example of automated license plate readers (ALPRs) as a great crime-fighting technology. In fact, it's an expensive, privacy-destroying bust, that has had only a very minimal impact in solving crimes or catching criminals. I don't know whether Bucelo knows this and doesn't care, or doesn't know it and is carelessly endorsing the invasive technology, but it doesn't matter. This shows all the wrong instincts.
Ariel Fernandez is a career Republican who has run for the State legislature and for the Commission in the past. I wrote about him at some length in Ariel Fernandez – a Grass Roots Candidate With a Past, and I don't think my views have changed much.
Since 2015 Fernandez has launched and edited Gables Insider, a very good blog on local issues; it's the best way to keep up with what the Commission is doing short of watching the interminable meetings themselves. One way in which today's Ariel Fernandez seems a bit different from the earlier edition is his suspicion of how the Coral Gables Commission staff are operating against the public interest (remember the secret attempt to put a Wawa and gas station across from Carver Elementary?). And incidents like this zoning-related outrage suggest he may have a point.
Whatever else, Fernandez will not be a safe vote for the Lago machine, and that's a good thing. There's one more reason to spurn Bucelo and vote for Fernandez. Unlike in 2021, when Bucelo was if anything the victim of dark money mailers this time the shadowy right-wing groups that pump out the mailers (and, now, ugly texts) are on Bucelo's side. That's pretty much always a sure sign of how to vote: do the opposite of what the sleazy mailers tell you. So vote for Ariel Fernandez in Group 5.
Incidentally, I continue to be irked by Coral Gables's instance on holding elections out of sync with every other race on the ballot. We'd save a lot of money, and also increase turnout, if we just changed the election date to November, or even to the date of the partisan primaries. But the insiders in Coral Gables don't want that – low turnout means there's less risk of an unexpected result. If more people voted, you never know who might get elected!
Updated 3/19/23 to add links to candidates' web sites and correct biographical error about Ivette Arango O'Doski.