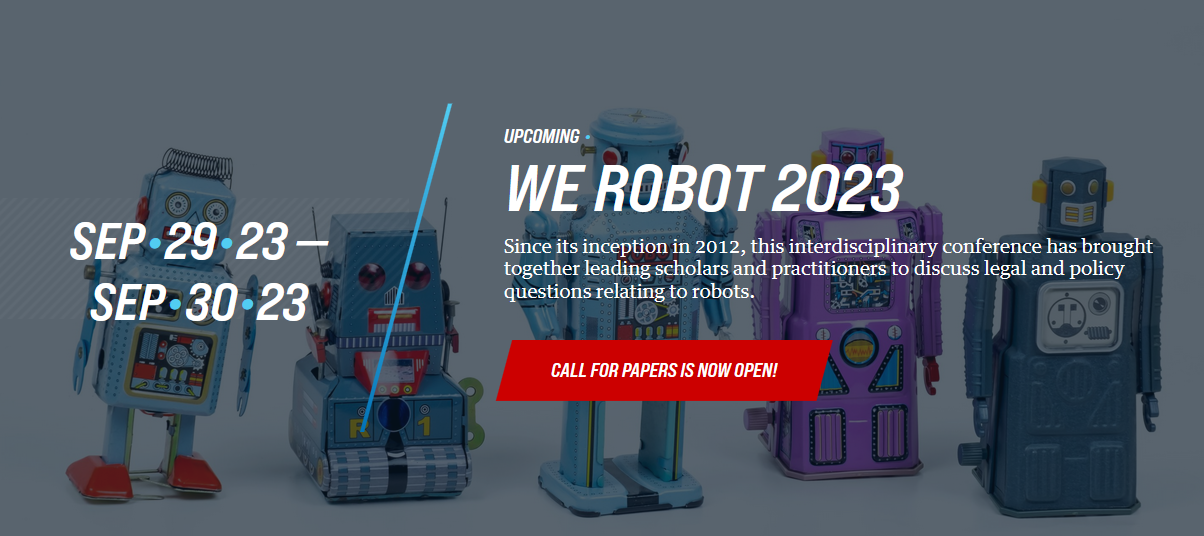 We Robot 2023 will be in Boston, MA, jointly hosted by the Boston University School of Law and the MIT Media Lab.
We Robot is the most exciting interdisciplinary conference on the legal and policy questions relating to robots. The increasing sophistication of robots and their widespread deployment everywhere—from the home, to hospitals, to public spaces, and even to the battlefield—disrupts existing legal regimes and requires new thinking on policy issues.
If you are on the front lines of robot theory, design, or development, we hope to see you here in Boston. Come join the conversations between the people designing, building, and deploying robots, and the people who design or influence the legal and social structures in which robots will operate.
We would also love to have you as a sponsor. If you are interested in discussing sponsorship opportunities, please get in touch.
Key Dates
March 6: Submissions for papers, posters, and demos open.
March 27: Abstracts for papers and proposals for demos due.
April 7: We aim to have responses to paper and demo proposals.
June 1: Call for posters closes, but acceptances may be offered on a rolling basis (i.e. it may be beneficial to submit earlier).
August 31: Full papers due. They will be posted online at the conference web site unless otherwise agreed.
September 29-30: We Robot Conference