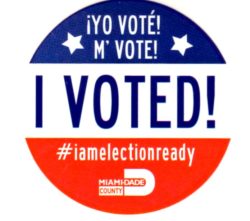 I went to vote at my local polling place at around 2pm. It was not deserted, but it was nearly empty. As I entered, a lady gave me a form, and asked me to hand it to the poll workers. It showed my time of arrival, and had a blank for when I got to the voter table — which proved to be about 60 seconds later.
I explained my story to the nice lady at the table. She scanned my driver's license and looked me up in her system. "It's here!" she said. I thought that meant my vote had miraculously arrived in the 45 minutes between when I last checked and when I turned up. But, no, turned out it meant that it showed they had sent it to me. But, as I explained, although I had returned it, it still was not received. And the system confirmed that too.
At that, they printed out a new ballot receipt for me, handed me the flimsy paper and a large ballot, and off I went to vote it.
I was in and out in under ten minutes, including parking.
The only slightly odd thing about the experience is that every other time I've voted, outside the polling place there has been a forest of signs for the various candidates, and multiple often competing campaign workers offering leaflets for their candidates.
This time, there were zero signs and zero people.
Maybe they were all off phoning and texting people: I got three calls and four texts reminding me to vote or asking me to vote for a candidate between 9am and 2pm today. So maybe it's virtual campaigning now? Probably beats standing in the sun…