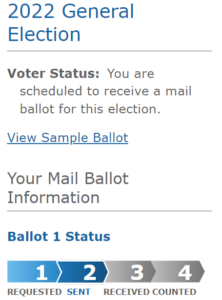 As of this morning, the Elections Dept. still has not received my ballot.
I was glad therefore to find instructions as to what I should do in the Miami-Dade Voter Information Guide/FAQ. At page 11 is says:
Surrendered at the Polls on Election Day – A voter who prefers to vote in person may surrender a voted or un-voted mail ballot to the voter's precinct on Election Day. The returned ballot will be marked "canceled" by the election board. A voter who desires to vote in person, but does not return the ballot to the precinct, may vote only under the following conditions:

• The election board confirms the voter's mail ballot has not been received.
• If the election board cannot determine whether the voter's mail ballot has been received, the voter may vote a provisional ballot.

Voters cannot vote by submitting their Vote by Mail ballot at their precinct. It must be surrendered.
That seems clear enough: if by tomorrow they don't have it, go to my polling place, and they will either let me vote, or give me a provisional ballot.
But I'm never going to vote by mail again if I can avoid it–I'm dumping that ballot in a drop box.