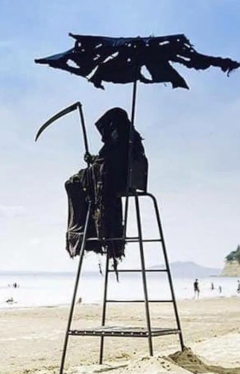 Charles M. Blow was shrill the last time he considered Florida Gov. Ron DeSantis.  I asked him to be more shrill.  Charles M. Blow delivers:
Ron DeSantis, How Many Covid Deaths Are Enough?

As The Times reported on Wednesday: "More people in Florida are catching the coronavirus, being hospitalized and dying of Covid-19 now than at any previous point in the pandemic." The Times continued, "This week, 227 virus deaths were being reported each day in Florida, on average, as of Tuesday, a record for the state and by far the most in the United States right now."

[…]

… DeSantis is playing to an electorate beyond the panhandle. As long as he is still mentioned in the same breath as Biden, even if the coverage is negative, he is playing well among Republicans. As long as he is fighting Washington and Democrats and experts, it doesn't matter to entrenched Republicans that he's not fighting the plague.

Some bodies must be sacrificed to appease the gods of partisan resistance.

To keep the spotlight, DeSantis is employing many of the same tricks as Trump: fighting with the media about coverage, deflecting blame onto Biden and convincing his followers that folding to facts is the same as forfeiting freedoms.

As DeSantis said in early August, "We can either have a free society, or we can have a biomedical security state." He continued, "And I can tell you: Florida, we're a free state. People are going to be free to choose to make their own decisions."

Yes, Florida, DeSantis is allowing you to choose death so that he can have a greater political life.