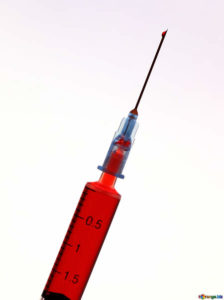 I presume it's a no-brainer in most states that if a private employer wants to require that employees be vaccinated or wear masks on the jobs then the employer can do this unless the employee has a legitimate medical reason not to, in which case there would be an ADA issue. If the objection is religious (e.g. Christian Scientists), there would be a claim for a reasonable accommodation if one can be arranged.
But what if it's the government making the order? Leaving aside for a minute the issue of the policy wisdom of a governmental mandatory vaccine order, does the Constitution permit the government, state or federal, to require obedience to a state's duly promulgated mandatory vaccination rule, assuming the rule has exceptions for medical and religious reasons?
Comes now the 7th Circuit, in a 3-0  opinion written by no less than Judge Easterbrook, to say in Klaassen v. Trustees of Indiana Univ. that this is not a hard case at all:
Given Jacobson v. Massachusetts, 197 U.S. 11 (1905), which holds that a state may require all members of the public to be vaccinated against smallpox, there can't be a constitutional problem with vaccination against SARS-CoV-2. Plaintiffs assert that the rational-basis standard used in Jacobson does not offer enough protection for their interests and that courts should not be as deferential to the decisions of public bodies as Jacobson was, but a court of appeals must apply the law established by the Supreme Court.

Plaintiffs invoke substantive due process. Under Washington v. Glucksberg (1997), and other decisions, such an argument depends on the existence of a fundamental right ingrained in the American legal tradition. Yet Jacobson, which sustained a criminal conviction for refusing to be vaccinated, shows that plaintiffs lack such a right. To the contrary, vaccination requirements, like other public-health measures, have been common in this nation.
Again, wisdom and legality are not the same thing, but as far as legality is concerned this is I think absolutely correct on the law as it relates to mandatory vaccination rules. 
I would venture to guess that the federal government could justify a similar rule under the commerce power. I would also venture to guess that the extension of the vaccination rule to a state (or federal) masking rule for the duration of an epidemic would not be very difficult.