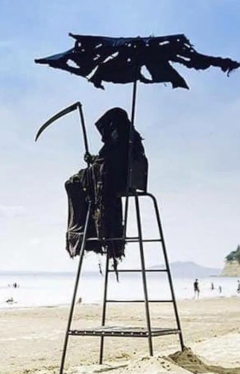 Because all that matters is getting reelected and then running for President.
The Miami Herald has the goods on the COVID data–Florida changed its COVID-19 data, creating an 'artificial decline' in recent deaths:
As the delta variant spreads through Florida, data published by the Centers for Disease Control and Prevention suggest this could be the most serious and deadly surge in COVID-19 infections since the beginning of the pandemic.

As cases ballooned in August, however, the Florida Department of Health changed the way it reported death data to the CDC, giving the appearance of a pandemic in decline, an analysis of Florida data by the Miami Herald and el Nuevo Herald found.

On Monday, Florida death data would have shown an average of 262 daily deaths reported to the CDC over the previous week had the health department used its former reporting system, the Herald analysis showed. Instead, the Monday update from Florida showed just 46 "new deaths" per day over the previous seven days.

The dramatic difference is due to a small change in the fine print. Until three weeks ago, data collected by DOH and published on the CDC website counted deaths by the date they were recorded — a common method for producing daily stats used by most states. On Aug. 10, Florida switched its methodology and, along with just a handful of other states, began to tally new deaths by the date the person died.

If you chart deaths by Florida's new method, based on date of death, it will generally appear — even during a spike like the present — that deaths are on a recent downslope. That's because it takes time for deaths to be evaluated and death certificates processed. When those deaths finally are tallied, they are assigned to the actual data of death — creating a spike where there once existed a downslope and moving the downslope forward in time.
Meanwhile DeSantis's people at the FL. Dept of Education (motto: "you raise 'em, we infect 'em"), working at arms-length from the state's Chief Obstacle to decent COVID policies, are doing an end-run around a court order so as to to really stick it to school districts trying to protect their students with a mask requirement. Yes, really, Florida withholds funds from two school districts requiring masks — despite court decision against state ban on mandates:
Education Commissioner Richard Corcoran announced late Monday that the Florida Department of Education has withheld the monthly salaries of school board members in Alachua and Broward counties who voted to impose mask mandates that only provide for a medical exemption from a doctor. The state actually withholds the equivalent in funding of the members' salaries.
I am sure that our very educated Governor (Yale College, Harvard Law) could, if he wanted, explain how the rule of law is for suckers, not the manly types who plan to inherit Trump's mantle and govern with the mailed fist. But that is the unspoken part of the act.
More likely he would argue that since the injunction against enforcement of DeSantis's anti-mask-rule order doesn't technically forbid the Florida Dept. of Ed from just happening spontaneously to implement the DeSantis policy of fining counties for having a mask requirement, without formally relying on the Governor's order. So, that's all alright until another court issues a more far-reaching injunction.
And indeed, as a formal legal matter that argument about the limited reach of the original injunction might be accurate. (It's a little hard to tell from the news reports of the decision.) But the question then is whether the mask-requirement-in-schools issue is one for which this sort of legal hardball (or sophistry?) is morally appropriate. I appreciate that there might be deep issues of principle where such an action might even be praiseworthy — don't do something horrible until there is no legal argument left unturned, and then resign rather than sign the order sending people to the camps. I simply cannot conceive of the masking rule as such a deep question of liberty and principle; we require K-12 students to have various immunizations, and to wear clothes, indeed many public schools have quite strict dress codes.  But here, the DeSantis admin is using these arguments to advance their play-to-the-base electoral scheme to block life-saving health measures.  Even if this is a valid technicality, it is being harnessed in favor of a policy that will — there's no way to sugar-coat this — kill people.
DeSantis is a menace.