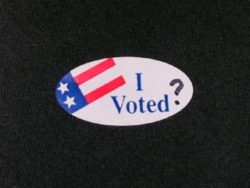 People have been emailing and DMing me asking for the downballot recommendations already. I'm glad to see that people who are voting by mail are taking seriously the suggestion that, given all the hiccups with the Postal Service, this is the year to get those ballots in the mail as early as possible – or maybe take them personally to a dropbox at an early voting center when those open up in less than two weeks.
Anyway, I'm flattered by the fact that people want this post badly enough to ask for it (and ask so nicely!) – so here goes the hors d'oeuvre. Main course tomorrow…
Top of the Ballot
You don't–I hope–need me to tell you who to vote for in the upcoming Presidential election. Indeed I find it almost inconceivable that there are genuinely undecided voters left in America at this point. Their lives, whoever they are, are undoubtedly radically different from mine….
And I'd also guess that you don't need me to tell you why a Democratic Congress is important, so I'll spare you the many the reasons to vote for our incumbents, Donna Shalala (line 25) or Debbie Mucarsel-Powell (line 23) as the case may be. I'll just say that as regards the 26th District, where Carlos Gimenez is the Republican candidate, please do keep in mind what a thoroughly bad Mayor he's been for Miami-Dade, especially on COVID-related issues. That's why I'm very much for Mucarsel-Powell despite what I consider a less-than-progressive voting record.
County Mayor
Similarly, I'd bet most people reading this don't really need me to tell them who to vote for in the County Mayor race between Daniella Levine Cava and Esteban Bovo. But if you do, let me remind you, as I've said before , that Cava (line 81) is head and shoulders the best candidate; Bovo is, I'd argue, a strong contender for the worst County Commissioner we've had in a couple of decades – at least if you take out the thoroughly incompetent and thoroughly venal from the pool of contenders for the title. Bovo isn't at all incompetent, which is why he's dangerous, and he's not thoroughly venal, but he's an ideologue of exactly the kind who we don't need to see us through pandemic recovery.
State Senate Dist 37 & State Rep. Dist 114
I should also say a few nice words about Javier Rodriguez (line 28), incumbent state Senator in district 37. He's a hard worker, and a rising star in Florida – we're lucky to have him for now.
And I'm voting for Jean-Pierre Bado (Line 45) for State Rep. I confess to knowing less about the State Rep race than I'd like – blame COVID? – but I voted for him in the primary, and he seems the better choice.
County Commissioner, District 7
This is a run-off between the two top vote-getters in the non-partisan primary. As I said in my discussion of the primary, I like Cindy Lerner for County Commissioner in District 7 (line 76):
Lerner is an accomplished former Mayor of Pinecrest. Regalado is an undistinguished but well-financed and media-savvy radio host and former School Board member from an important Miami political family (her dad was Mayor of Miami). ….

Regalado has a bad history. She made a lot of noise when she was on the School Board, but as far as I could tell, she didn't accomplish much of anything other than PR. And as I've said before, "the real rap on Regalado has two parts: lack of competence (not numerate, not detail-oriented) and likely to sweep in her father's cronies."
I haven't changed my mind on that one.
Downballot Recommendations
But what you probably really came here for is the true downballot: the other races, especially the Judicial retention elections, and the proposed amendments to the Florida Constitution and to the Miami-Dade Charter. I'm afraid you'll have to wait for tomorrow's post for those — here, however, in the mean time is one easy choice:
Clerk of Court
For clerk of the court, Harvey Rubin (line 56) continues to do a fine job. He actually has an opponent this year, which makes a change, but not one that matters much.
Next up, no later than late tomorrow afternoon: Judicial Retention Elections and State Constitutional Amendments
Update: Continue to Voters' Guide to the November 2020 Miami-Dade Ballot, Part II: Judicial Retention Elections