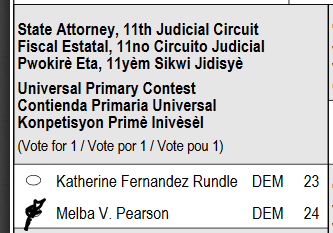 Primary Day–and the date for the first and sometimes final round of non-partisan elections–is Tuesday August 18. But Vote-by-Mail-in ballots are out in people's hands, so it's time for another edition of my downballot recommendations. I am going to discuss all the races on my ballot, but I suspect most readers have their own views on the Miami-Dade County Mayor's race, and even the Commission races, so I won't dwell on those. Instead, as usual, my focus will be on the judicial and other races which – although very important – get little press coverage and so easily fly beneath the radar.
I should start by admitting, though, that collecting info has been tougher this year than I think any time since I started doing this due to a combination of the COVID crisis reducing campaigning, and the fact that I've had my own little health issues to contend with. Still, I've done some research, and I hope you will find it helpful.
Today's post will deal with all the non-judicial races. I'll have the judicial races—which readers tell me is what they really want to read about anyway—up Real Soon Now™.
State Attorney (Open primary)
The State Attorney is the chief local prosecutor. This is a tremendously important race, especially now. The incumbent, Kathleen Fernandez Rundle, has not in all the years I've been paying attention ever faced a serious opponent anywhere near the caliber of challenger Melba Pearson. It's also a fact that in all the years that Kathleen Fernandez Rundle has been our County Attorney she has never – no, never, not one single time – initiated a prosecution against a police officer for an officer-involved shooting. Trust me, we in South Florida do not live in a paradise where the police never shoot when they should not.
Similarly, in the gruesome case of Miami Dade Correctional Institution inmate Darren Rainey — whom three corrections officials stuffed into a hot shower for a couple of hours and then scalded to death, Ms. Rundle was unable to figure a single charge that might have indicated this sort of torture-murder would not be tolerated in our prisons. Not surprisingly, the Corrections abuse continues with the help of legal coverups by the State Attorney's office.
Kathleen Fernandez Rundle has not just been slow to bail reform, she's been utterly absent, at least until it appeared she would face a real challenger in an election.
And, oh yes, there's a secret (charitable) fund defendants can pay to in order to have charges dropped — basically a charitable slush fund operated by the State Attorney's office.
It's all so bad that the Miami-Dade Democratic party recently voted to ask Rundle to abandon her bid for re-election.
Melba Pearson will fix these problems and more. Pearson is deputy director of the American Civil Liberties Union of Florida (where she was involved in passing Amendment Four, the felon voting restoration project) and was a prosecutor in the Miami-Dade State Attorney's Office for more than fifteen years, ending as a section chief. She promises to end the use of cash bail for all misdemeanors and nonviolent felonies. Pearson says she is committed to ending the direct filing of juveniles into the adult court system. She promises reforms that "will focus on identifying the root cause of the crime, such as mental illness, homelessness or substance abuse, and helping those offenders rehabilitate and stay out of the criminal justice system."
If you haven't guessed yet, I think that, despite Kathleen Fernandez Rundle's real intelligence and articulate public speaking, after 27 (!!) years, we're overdue for a change.
Vote Melba Peterson (line 24). This one is important.

State Rep District 114 (Democratic primary)
This is an open seat, since the incumbent, Javier Fernandez, is running for State Senate. There is only one Republican candidate, so there is no Republican primary. There are two Democratic candidates, Jean-Pierre Bado and Sue "Susi" Loyzelle, currently the Cutler Bay Vice-Mayor (I could not find her website). Indeed, locked in my house as I am, I've rarely found it so hard to get a sense of the candidates in a local race.
The Republican candidate, Demi Busatta, has been raising money and collecting endorsements, so it could be an uphill fight for whichever Democrat wins the nomination.
Here are the candidates' bios:
Jean-Pierre "JP" Bado was raised by his mother and tía, who emigrated to the U.S. from Costa Rica. Originally from Long Island, NY, he graduated from the United States Military Academy at West Point and was the captain of the Army Fencing team his senior year. He later served as an officer in the First Infantry Division, then stationed out of Germany. He is an army veteran who received numerous medals for military achievement and service. He eventually left the army after successful completion of his company command, having attained the rank of Captain.
Upon his honorable discharge, JP moved to South Florida and earned an M.B.A. with specializations in finance and international business from the University of Miami School of Business. After several years working in the financial services industry, he attended night school at the Florida International University School of Law while working full time. Now a practiced litigator, JP lives in Coral Gables with his wife, Carolyn, and their rescue dog, Lorenzo. In addition to English, JP is fluent in Spanish and speaks French conversationally.
Bado's web page identifies the first key issue as climate change ("fight rising waters"), so that's good. He's for an assault weapons ban. He has a sensible position on the pandemic:
COVID-19 has made it clear that we must fix the unemployment system nightmare created by former Governor Rick Scott. That's why I will fight to expand unemployment benefits to 26 weeks from 12; process applications in a reasonable timeframe; and require payment within 30 days of processing. The current governor's continued inaction during this crisis makes these measures mandatory. Without leadership, Floridians will likely continue to wear masks, socially distance, and suffer the economic impact of COVID-19 well into 2021.
I couldn't find Loyzelle's campaign web page. According to a recent article about her:
Sue "Susi" Loyzelle currently serves as the Vice Mayor of the Town of Cutler Bay. She was first elected to the Town Council as Councilwoman in 2011. As an elected official, she has led on key issues, including traffic relief, senior housing, education, the environment, and economic development. She is a member of the Miami-Dade League of Cities, Miami Dade County Age-Friendly Initiative Advisory Committee, South Dade Chamber, as well as the Council Liaison for the Town of Cutler Bay's Communities for a Lifetime Committee (CFAL). She previously served on Chamber South's Transportation Committee and is a current member of the Greater Miami Chamber of Commerce. She also served on the Florida State Alliance of YMCAs Public Policy Committee and has been a member of the Kiwanis Club for more than 30 years.

Susi Loyzelle dedicated her professional carrier to the YMCA, where she received many honors and recognition's for her commitment and dedication including: American Cancer Society's "Woman of the Year" for her work with Disaster Recovery at the YMCA and the Association of YMCA Professionals "Christian Emphasis Award" for her dedication to the mission of the YMCA.
Susi Loyzelle is a graduate of the inaugural class of The Good Government Initiative as well as a graduate of Leadership Miami, a program sponsored by the Greater Miami Chamber of Commerce. She holds a Bachelor of Arts Degree in Physical Education/Leisure Service Administration from Florida's St. Leo University.
We know a bit about Loyzelle from her tenure in Cutler Bay, which erred on the pro-development side. I'm not against development per se, but I am in favor of sensible zoning (and not moving the UDB). Back in 2011 and in her first term in Cutler Bay, Loyzelle was in favor of allowing buildings as high as four stories along Old Cutler Road. Given that the road is only two lanes and cannot be widened, this didn't seem very sensible to me. But that was a while ago…
Based on what is admittedly more limited knowledge than I'd like, I think I'm going to vote for Jean-Pierre "JP" Bado (line 60).
Miami-Dade County Mayor (Non-partisan)
There are six candidates: Monique Nicole Barley, Estaban Bovo, Daniella Levine Cava, Ludmilla Domond, Alexander "Alex" Penelas, and Xavier Suarez.
Daniella Levine Cava is head and shoulders the best – and not only because so many of the others are terrible.
Of the other electorally credible candidates, Estaban Bovo has been one of the worst members of the Miami-Dade Commission. And is best buddies with the toxic David Rivera (and his money). If you like Trumpian values, vote for Bovo, you'll be happy. No one else will be.
Alex Penelas is trying to win back a job he had a hundred years ago – ok only sixteen, but it feels like 100. He may not have been personally corrupt, but he surrounded himself with corrupt people. We should be past all that by now.
Xavier Suarez (father of City of Miami Mayor Francis Suarez) actually talks sense with surprising frequency, but for me he's permanently tainted by the 2000 voting scandal: ballot manipulation on Suarez's behalf caused the election to have to be invalidated, and several of Suarez's people got indicted. Al Gore said he was a snake.
I had a lot more to say on this, but happily I can send you to the Miami Herald's surprisingly decent editorial endorsing Cava .
Vote Daniella Levine Cava (line 362).
P.S. I keep getting mailers from shadowy groups attacking Cava. Like, daily. If she has worried monied enemies this much, that's another reason to vote for her!
County Commissioner, District 7 (Open Primary)
There are four candidates: Cindy Lerner, Raquel Regalado, Michael Rosenberg, Rafael "Ralph" Suarez. Lerner and Regalado have to be the leading candidates. Lerner is an accomplished former Mayor of Pinecrest. Regaldo is an undistinguished but well-financed and media-savvy radio host and former School Board member from an important Miami political family (her dad was Mayor of Miami). Michael Rosenberg is a Pets' Trust co-founder and Rafael "Ralph" Suarez is a Miami Gardens police captain.
Regalado has a bad history . She made a lot of noise when she was on the School Board, but as far as I could tell, she didn't accomplish much of anything other than PR. And as I've said before, "the real rap on Regalado has two parts: lack of competence (not numerate, not detail-oriented) and likely to sweep in her father's cronies."
Rosenberg would be OK, but he's not going to win out in this crowded field. Lerner was a good Mayor for Pinecrest. She did the showy stuff like overseeing the creation of a trolley line and revitalization of the former site of Parrot Jungle, but she also did the less-glamorous but important stuff like making renovations to the village's stormwater system.
[Update (8/5): Here's a great blog post from Eye on Miami about why Cindy Lerner is the best choice.]
It won't surprise you that I think this is no-brainer: Vote for Cindy Lerner (line 343).
Property Appraiser (Non-partisan)
Honestly, before I sat down to research this post, I didn't have a clue about this race. And I still don't have much of one.
There are two candidates: incumbent Pedro J. Garcia , and challenger Marisol Zenteno.
I've never been a particular fan of Garcia, but also don't have anything particularly against him. He's been in office 12 years (no term limits), and is currently 84 years old. Continue with what's not making waves, or time for new blood? The question will be particularly acute when the post-Covid foreclosure wave crests.
Marisol Zenteno has a good biography: she was until recently the chair of the Miami-Dade County Commission on human rights, and is a past president of the League of Women Voters of Miami-Dade County. In that latter role she was active in encouraging voter registration and access–e.g. making early voting available on college campuses. (Here's a nice interview she did with DeFede a few years ago.)
Zenteno currently works in the Property Appraiser's office, i.e. for Garcia, which has to be awkward . She says she can make the office run better, have a more user-friendly web page and improve other services.
Even though this is a non-partisan election, the Democratic Party of Miami-Dade endorsed Zenteno. [Update (7/31): The Miami Herald endorsed Zenteno.]
This is another low-information race for me, but as I said, Garcia has never been impressive or (as far as I could tell) especially energentic. Zenteno's background is attractive, as is her call for modernization. So, I think I'm going to Vote for Marisol Zenteno (line 367).
---
Anyway, that's it for Part I. Look out for Part II — the Judicial Elections — in a few days.
UPDATE: Here's a link to Miami-Dade Primary Day Ballot Recommendations 2020, Part II (Judges)