This is Part II of my 2020 Primary Election Recommendations. Don't miss Part I (the non-judicial elections).
Judges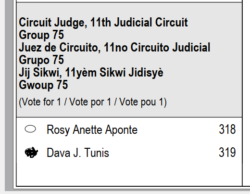 Unlike most law professors I know, I support the idea of judicial elections at the state level as a reasonable democratic check on what I believe should be the expansive power of judges to interpret the state and federal constitutions.
As I've often said before, if it were up to me, I'd have the executive branch pick judges with legislative confirmation, followed by a California-style retention election every few years in which there would be an up or down vote on the incumbent. If the vote was down, the executive would pick a new judge. It seems to me that the right question is "has this judge done a good (enough) job" — something voters might be able to figure out — rather than asking voters to try to guess from electoral statements which of two or more candidates might be the best judge.
Florida's system uses appointment plus retention elections for Supreme Court Justices and District Court of Appeal Judges, but not for trial courts. The Governor can appoint judges to fill vacancies between elections, but otherwise those jobs are straight up elected, so this election pits one or more challengers against the incumbent unless, lacking opposition, the incumbent wins reelection automatically; many trial judges were indeed unopposed this year. There are also open seats when the incumbent retires.
My recommendations are based on:
My personal view that I will vote for an incumbent judge unless there's reason to believe he/she is doing a bad job.
After supporting incumbents, my other rule of thumb in sizing up candidates before even getting to the details of biography and practice experience is that in all but the rarest cases of other important life experience we ought to require at least ten years of legal experience from our lawyers before even considering them as judges. Fifteen years is better. I will very rarely support a judicial candidate fewer than ten years out of law school. It just isn't long enough to get the experience and practical wisdom it takes to be a judge.
I look to see if the candidate filed a voluntary self-disclosure form with the state. I prefer candidates who take the trouble to fill out the form and give thoughtful replies. Normally I also look hard at the Dade County Bar Association Poll in which lawyers rate the sitting judges' and the candidates' qualifications. The response rate is not that great on this poll, but I do think that if there's a large majority one way or the other that tells me something. Unfortunately, this year the poll is remarkably unhelpful: It tells me Judge Thomas Rebull is considered one of the better judges, which I guess is good to know especially as some anonymous commentators on another blog seem to have it in for him, and it tells me a lot of lawyers think challenger Rosy Aponte is unqualified, but I knew that without looking at a poll. Other than that it is not very informative.
This year, The Daily Business Review (DBR) published a useful voters' guide to judicial elections.
If all else fails, I look at the Miami Herald's view. (But not this year, the Herald hasn't done its endorsements yet.) [Update 8/6/20: The Herald's endorsements are out now.]
And oh yes, I read local blogs and listen to gossip too. Except this year, gossip is scarce, since I'm not leaving the house….
This will be a long blog post because there are five Circuit Court elections and two County Court elections in Miami-Dade this year. Both are trial courts, but the County Courts have a more limited jurisdiction, comprising Misdemeanors, small claims up to $5,000, civil disputes up to $15,000, and traffic court. Circuit Courts have broader jurisdiction.  They also hear some appeals from County Courts, while other appeals go straight to the DCA's, the District Courts of Appeal.
All registered voters in Miami-Dade County get to vote on these judges, regardless of party affiliation. Here are my suggestions how to vote in the August 18, 2020 judicial elections:
Circuit Judge, 11th Judicial Circuit, Group 55
The two candidates are Olanike "Nike" Adebayo and Joe Perkins.
Ms. Adebayo (no relation to [Update: a robed reader writes to say she is in fact a cousin of] this guy) has 22 years practice experience and is currently the assistant regional counsel in the dependency division of the Office of Criminal Conflict and Civil Regional Counsel in Miami, which handles cases that public defenders can't take for legal reasons. She's also a former prosecutor at the Miami-Dade State Attorney's Office–and a U.Miami Law graduate. I voted for Adebayo when she lost a County Court race in 2018 to Eleane Sosa-Bruzon. Her voluntary statement reads:
I am a servant leader who lives by the quote by Shirley Chisholm, "service is the rent we pay for the privilege of living on this earth." My past and present civic involvement throughout Miami-Dade County as a voluntary bar association past president, board member for Legal Services of Greater Miami, Inc., mentor, and volunteer for several organizations including Women of Tomorrow, 5000 Role Models, Teen Court, The Women's Breast and Heart Initiative helped me to become a great listener and a collaborative decisive leader committed to excellence and equality. My varied legal background includes twenty-two years of criminal and civil litigation and extensive trial experience. My servant leadership roles, legal experience and strong work ethic qualify me to serve as an excellent circuit court judge.
Joe Perkins is a partner in Garbett, Allen & Roza in Miami. He has 13 years practice experience; Florida Super Lawyers identified him as a "rising star" for banking and commercial litigation, if you care about such things.
Perkins has run for Judge twice before and lost. I wasn't a fan on either attempt, in substantial part due to lack of experience. But experience does come with time, and in addition to building up a record in commercial litigation, Perkins has bulked up his pro-bono activities list, and generally looks better as a candidate than previously. Here's his statement:
I have had the good fortune of meeting with many attorneys – across practice areas – during my campaign. I am convinced that there is a consensus within our community regarding what we desire in our judiciary. Competence and intelligence are JUST the baseline. With today's ever increasing caseloads and ever decreasing funding, we need more judges who will also be present, thoughtful, and ready to roll up their sleeves and get to work. I will bring these qualities with me to the judiciary.
Perkins has a case for his candidacy. Nevertheless, on both quantity and breadth of experience, I think I'm going to vote for Olanike "Nike" Adebayo (line 310).
Circuit Judge, 11th Judicial Circuit, Group 57
The two candidates are Carmen Cabarga and Roderick "Rod" Vereen.
Neither candidate appears to have filed a personal statement with the Florida Bar. The DBR has an interview with Cabarga but none with Vereen since he "did not respond to requests for answers."
Carmen Cabarga is, like Adebayo above, an attorney with the Office of Criminal Conflicts; her 20 years of practice experience includes stints as former prosecutor, and as an attorney for the city of Miami Community Redevelopment Agency for Overtown/Omni/Midtown [hmm…]. Although she did not submit an official personal statement, she said this to the DBR:
I am driven by a desire to help others. I know that serving is my true measure of success. This is where my gratification and self worth reside. This is exemplified in my 20 years as an attorney. I have litigated on behalf of elderly wards of the state of Florida. I have acted as a fiduciary of the state to prosecute cases where children have been the victims of abuse. I have worked in the poorest of our neighborhoods, drafting contracts between the city of Miami, developers and small business owners. Currently, I represent the fundamental legal interest in preserving families by litigating on behalf of parents and their children.

I believe that I now have sufficient experience to serve at a higher level. In addition, my children are now teenagers, and I am committed to dedicate the necessary time to this position. Our legal system is made up of the people that pass through our courts on a daily basis, on matters that greatly affect them individually. Each person's facts are impartially heard and decided. Not all cases make the papers, nor will most set legal precedent. The daily tasks may seem menial. However, it is this daily commitment, not grand gestures, that define our legal system. Every person has the right to have an impartial judge hear the facts of their case and apply the rule of law. This is what makes our legal system so great.
Roderick "Rod" Vereen has almost 30 years practice experience. Currently he practices at the Law Office of Rod Vereen & Associates, and is a former prosecutor, former public defender (indeed he was the first African-American assistant federal public defender in the Pensacola area), and past president of the Wilkie D. Ferguson Jr. Bar Association (formerly known as the Black Lawyers Association). Vereen ran for Congress in 2010 as an Independent against Fredricka Wilson and lost by more than 70%. Vereen then ran in 2012 for State Attorney against Katherine Fernandez Rundle, losing 60%-40%.
Vereen is no stranger to the big media-rich case. For example, in the George Zimmerman trial, Vereen represented Rachel Jeantel, the woman who was on the phone with Trayvon Martin shortly before George Zimmerman shot him.
Vareen was considerably more impressive than Cabarga in the most recent Judicial Candidate's Forum. But his unwillingness to fill out a voluntary bar statement, or to talk to the DBR makes him oddly unwilling to take part in basic processes for informing voters. Even Vereen's website is mostly devoted to handsome photographs of the photogenic candidate. There are things in Vereen's bio that suggest he might be a capable and interesting judge. But I think voters deserve a bit more disclosure from a candidate.
You can make a case for (or against) both candidates. I thought from the paper records that Cabarga had an edge. I was put off by Vareen's decision not to file a voluntary statement and to ignore the DBR's questions. (It's a pattern?) But Cabarga was unimpressive in the candidate's forum — especially compared to Vareen. So I'm not going to make a recommendation here, at least not yet.
Group 57: No recommendation (at least, not yet).
Circuit Judge, 11th Judicial Circuit, Group 65
This race pits challenger Denise Martinez-Scanizani against well-regarded incumbent Thomas J. Rebull.
As I noted above, the bar poll was especially kind to Judge Rebull, as he got one of the top ratings.
Denise Martinez-Scanizani is a third time judicial candidate. She first ran in 2008 against Incumbent Circuit Judge Bernard Shapiro losing 59% to 41%. Then she ran for an open seat in 2016 against three opponents, coming in last of four by a hair. The Miami Herald had endorsed her in that contest, mainly because she had an AV rating of "Preeminent". I wasn't as impressed. Now Martinez-Scaniziani again is running against an incumbent judge – who happens to be one of the good ones. Here is Martinez-Scanizani's statement:
I am a trial and appellate attorney who is Board Certified in Marital and Family Law with over 20 years of experience. I attended the University of Florida obtaining my B.A. with high honors and my J.D. with honors. Currently, I run my own firm currently serving clients in the areas of family, dependency, and domestic violence. My desire and passion to serve did not begin when I filed my candidacy for judge. My service to my community began when I chose to accept a position as a staff attorney with Legal Aid, representing one of the most vulnerable populations in the community—our senior citizens. My service continued through the thousands of pro-bono hours I have given throughout the course of my career—providing pro bono representation, at the trial and appellate level, donating time in clinics throughout the county–representing those who would otherwise not have access to representation–and as a Guardian ad Litem working for the interests of children. My dedication to children continued when I accepted a position as a high school teacher, while practicing law. Throughout my career I have always sought to serve the interests of justice. I believe that everyone has the right to be seen and to be heard–that is due process. Simply put, I am passionate about the law, about justice, and serving my community. I am seeking election as a judge because I believe that qualified, experienced judges who follow the law and value precedent, bring stability and fairness. My background as a trial and appellate attorney in different areas of the law provides me with a broad understanding and perspective that make me uniquely suited to take on this role. And finally, I believe that a judge is no more than a servant to his or her community and I would be honored to serve Miami-Dade County in this position of trust.
Judge Rebull did not provide the Florida Bar with a statement, but he has a proven record that speaks for him.
[UPDATE: After I published this post, Judge Rebull wrote to say that he had submitted a voluntary self-disclosure statement and had not been aware until he saw this that the Bar had failed for some reason to put it online. Indeed, they've just now corrected the error. Judge Rebull's statement reads:
I've been a circuit judge for almost nine years. Before that, I was an attorney practicing in the areas of complex business disputes, and real estate and employment disputes. I have tried to be the kind of judge that I would have wanted to appear before as an attorney. I value being: prepared, on time, fair, patient, and open-minded. I make sure litigants have prompt access to the court for hearings and rulings.

A judge's job is to resolve disputes, by applying the law to the facts; not to make laws. I have worked hard to do just that, efficiently.
]
If Martinez-Scanizani wants to be a Judge, she ought to stop running against serious incumbents.
UPDATE (8/15): Those supporting Judge Rebull can only be given very serious pause by the publication of a transcript of a trial at which he presided — and behaved, by any standard, badly. Full details at Justice Building Blog. Whether this (isolated?) incident is enough to change your vote, I don't know; it can't be all that common given the bar poll results, but if I'd read it before doing my recommendations I might not have endorsed either candidate here.
Vote to re-elect Judge Thomas J. Rebull (line 315).
Circuit Judge, 11th Judicial Circuit, Group 67
The two candidates here are challenger Marcia Giordano Hansen and incumbent Mavel Ruiz.
There is some karma in Judge Mavel Ruiz drawing an opponent as she herself ran against an incumbent who I thought was doing a good job, Judge Fleur Lobree, six years ago.
More troubling is that earlier this year Judge Ruiz received a written reprimand from the Florida Supreme Court because of a letter she and four other judges signed that urged the Florida Department of Children and Families endorsing to choose Our Kids of Miami-Dade & Monroe, Inc. in a competition with another organization for a multi-year contract worth about $500 million. However, in its ruling delivering the written reprimand, the Florida Supreme Court noted that,
Each respondent fully cooperated with the JQC. Each respondent took responsibility for the misconduct and acknowledged that it should not have happened. The respondents' letter was not intended to promote the financial interests of themselves or others. Moreover, each respondent has an otherwise unblemished disciplinary history.
Is this reprimand, the mildest penalty the Florida Supreme Court doles out, but for an ethical lapse nonetheless, something serious enough to warrant voting against an incumbent? In part that depends on the strength of the challenger.
Marcia Giordano Hansen is an attorney with The Hansen Law Firm, of which she's the owner. She has 19 years practice experience. Her statement reads:
I have extensive experience, a balanced temperament, I am organized and prepared. Since 2000, I have worked as an assistant Public Defender, big firm associate and solo practitioner. The different roles and cases gives me a well-rounded perspective in the courtroom and a well versed knowledge of criminal and civil procedure. My calm temperament has caught adversaries off guard when I win by arguing the law and implementing strategy with precision over aggression. As a mother of 2, wife of 10 years and successful business owner, my world's survives on organization and preparedness, and this will transcend into my courtroom.
(I'm not sure about the use of 'transcend' there, but no matter.)
I don't know either candidate. Their DBR interviews are unilluminating. Although reasonable people might disagree, I think I'm going to stick with the incumbent, so I'm going to vote to re-elect Mavel Ruiz (line 317).
Circuit Judge, 11th Judicial Circuit, Group 75
This one is really easy. The two candidates are challenger Rosy Anette Aponte and — wait, stop there, that's all you need to know: Vote for the other one. Actually in this case, the other one – incumbent Judge Dava J. Tunis — happens to be good, but that is just icing on the cake.
We really don't want Rosy Aponte as a judge. It's little wonder she got the highest unqualified rating in the bar poll. This is Aponte's third race. I've inveighed against her in the previous two (see here, for example; scroll down to Group 52), and I would prefer to keep doing that every two years if necessary, rather than have her get elected.
Aponte did not submit a voluntary self-disclosure statement to the Florida Bar. Aponte was also the only candidate for judicial office who did not take part in the recent Gwen S. Cherry Black Women Lawyers Association judicial forum nor, I gather, a whole bunch of earlier judicial forums held by various local groups.
Judge Tunis has 34 years of practice experience, including almost 20 years' experience as a Judge, five on the County Court, fifteen on the Circuit Court. She was an Assistant Public Defender from 1986-2000. Despite this, in 2000, she was appointed to the County Court bench by then-Gov. Jeb Bush. In 2005, Bush elevated Judge Tunis to the Circuit Court. The Dade County Bar Association awarded Judge Tunis a Judicial Lifetime Achievement Award and the President of the Florida Bar awarded her the President's Award of Merit. Oh, and she's a U.Miami Law graduate too. Here is her voluntary statement:
I have been a judge for nearly 20 years, serving in both the County and Circuit Courts. I was interviewed and vetted by various JNCs and twice appointed by Gov. Jeb Bush. I have been retained, then re-elected without opposition, three times. I have been on the Circuit Court bench for 15 years. During my judicial career, I have presided over a variety of cases, including those in Domestic Violence, along with Family Civil Injunctions and Uncontested Dissolution of Marriage, Juvenile and Criminal divisions. I have handled thousands of cases (12,000 at least) and presided over approximately 150 jury trials of varying lengths and complexity. My jury trial experience encompasses complex criminal litigation, including homicide and death penalty cases. An estimate of my bench trial experience involves over 1,000 trials, from my years handling Civil Injunctions Against Domestic or Repeat Violence and Juvenile cases. I follow the law and come to court prepared. Prior to court hearings, I read all motions, memorandum of law, case law submitted and do my own research. Parties are assured that I have educated myself on the legal issues. Attorneys and litigants deserve a judge who is prepared, conscientious and dedicated to following the law. I treat all parties with dignity and respect, regardless of race, gender, religion, ethnicity or sexual orientation. I assure the highest ethical standards are followed, by attorneys in court and myself. A judge must lead by example. A judge's elevated role mandates a responsibility to treat others with respect and dignity. That is the manner in which I have conducted myself and will continue to do so.
Ultimate no-brainer here: Vote to re-elect Judge Dava J. Tunis (line 319).
County Judge, Group 9
Two candidates, incumbent Judge Joseph J. Mansfield, and challenger Miguel "Mike" Mirabal. You can read their interviews in the DBR here.
Judge Mansield was appointed by Gov. Scott in August 2017; previously he was an Assistant State Attorney. He submitted this voluntary statement to the Florida bar:
Throughout my professional career, I have obtained a wealth of experience in various different arenas that I feel has given me a great knowledge and perspective that is vital to any successful Judge. I have been a practicing lawyer for approximately 19 years, having spent 16 years as an Assistant State Attorney followed by 3 years as a sitting County Court Judge. I have a great respect for our system of law, and for the people who are involved in our legal system. I am passionate about the law, and I am committed to making a positive contribution to the legal arena. Because of my education and experience, I possess the knowledge, experience, commitment, compassion, and temperament that is vital to any successful Judge. As such, I have dedicated my career to understanding, advocating, interpreting, and enforcing the laws that we all share.
Miguel "Mike" Mirabal runs his own law firm, Global Legal. He ran for a County Court seat in 2018. He has 16 years practice experience split between the U.S. and Spain. He submitted this statement:
I have the judicial temperament and the ability to bring opposing parties together to achieve positive and effectual outcome. As a county court judge, I believe I have the legal and courtroom experience will allow me to hit the ground running in any division of the county court I am placed in or assign to.
In the 2018 race, both the Herald and I endorsed incumbent Judge Milena Abreu who trounced Mirbal 65%-35%. Now Mirbal is running against a different incumbent. History should repeat itself.
Vote to re-elect Judge Joseph J. Mansfield (line 320).
County Judge, Group 24
Two candidates — incumbent Judge Christine Bandin and challenger Shaun Spector.
Shaun Spector has only been in practice for nine years, which I believe is not long enough to be considered for a judgeship, even if he did get his J.D. at U.Miami. He submitted this statement:
I would be a good judge because of my legal background, work ethic, and commitment to public service. I have been a litigator for my entire career and had the opportunity to represent a wide array of clients in several different capacities. Those experiences have provided me with a well-rounded understanding of the legal process, its inefficiencies, and issues that it poses to litigants from all walks of life. I understand the tremendous amount of time and energy required to do this job well and welcome the opportunity to refocus my efforts on serving the citizens Miami.
Specter was appointed to the Community Relations Board for the City of Miami in January, 2019, but left when he was appointed to the Nuisance Abatement and Code Enforcement Board.
Judge Bandin was appointed to the bench by Gov. Scott in October of 2018; previously she was a partner with Shutts & Bowen. She did not submit a voluntary statement to the bar. She did answer questions from the Daily Business Review; one reply reads:
As previously stated, I practiced law here in Florida for over 12 years and was a partner in a well-known and highly regarded law firm just before being appointed to the bench. During that time, I had the opportunity to learn and grow as a civil litigator, developing a strong foundation in such areas as civil procedure and trial practice. I appeared in court quite often and argued a variety of motions and legal issues. As a result, it was incumbent upon me to be diligent in my work and always prepared for court. Additionally, it was always my practice to have a good working relationship with my opposing counsel and treat them with fairness and respect. It is these experiences that have laid the groundwork and prepared me to become a county court judge. Every day I work to be diligent and prepared, and treat those who appear before me with fairness and respect.
I think Mr. Specter ought to try again…six or more years from now. Meanwhile, I'm going to vote to re-elect Judge Christine Bandin (line 322).