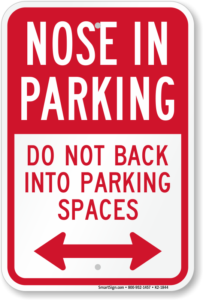 Man must serve (surveillance) machine as explained in New Parking Technology to Require No-Back-In Policy:
For the past two years, the Department of Parking and Transportation has been developing and implementing its License Plate Recognition (LPR) system, reads vehicle license plates and rapidly informs Parking Services Officers if vehicles are authorized to park on campus. The system has proven itself very beneficial. Permit holders are less likely to find their assigned zone overrun with illegal parkers and, more importantly, parking officers are enhancing campus safety by becoming more efficient eyes for the University of Miami Police Department.

The next step in the evolution of this technology is to switch to virtual permits, thus eliminating the need for plastic hangtags. However, Florida is among the 18 states that require a plate only on the rear of the vehicle, which creates a hurdle for the new technology. LPR-equipped vehicles cannot read the license plates of vehicles that back into parking spaces. As a result, Parking and Transportation will implement a 'No-Back-In' Policy starting in the spring 2018 semester.

There will be exceptions to this policy. For example, the drivers of out-of state-vehicles that have both front and back license plates will be able to back into a parking space. Additionally, for a $20 fee, drivers of Florida vehicles who prefer to back in to parking spaces will be able to purchase a front plate with a unique number that is linked to a virtual permit.
But do not fret dear parker, because this new rule is soooo goood for you:
There are many benefits to this new policy:

Permit holders will be able to register all of their vehicles on a single virtual permit, eliminating the need to remember to switch their hangtag permit when they use a different car.

The inconvenience and expense of losing a permit will no longer be an issue. Purchasing a permit will be an immediate transaction, with no need to wait for a mail delivery.

Returning or exchanging a permit will be just as easy, with most transactions not requiring a visit to the Parking Office.

Any questions or comments can be submitted to Parking and Transportation at 305-284-3096, option 2, or at parking.gables@miami.edu.
Don't tempt me. How long will the records be kept of who parked where might be my first question….