One of the nicer things about living where I do is that there is a first-class regional theater less than 10 minutes away. If you live anywhere near Coral Gables and you don't go regularly to GableStage, housed in an intimate space on the grounds of the Biltmore Hotel, you are missing out. It never ceases to amaze me when there are any empty seats – and it wasn't quite a sellout at last night's performance of Time Stands Still, a four-hander by Donald Margulies.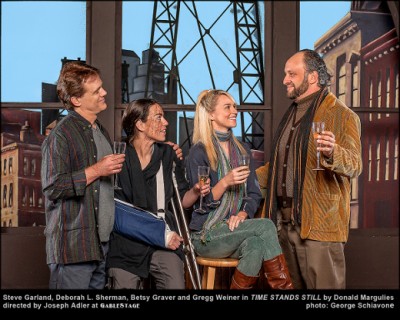 Joseph Adler, the play's director and the general impresario of GableStage, is the Lebron James of regional theater – he's so good that we risk getting spoiled. If Lebron scores only 26 points in a win, most fans don't get excited. And there might be a similar risk with a very fine production like Time Stands Still which doesn't quite reach the extraordinarily high standard set by this season's earlier productions such as John Logan's Red and Stephen Adly Gurgis's The MotherF**ker with the Hat (which Terry Teachout said was better than Broadway's version) but remains a very good night out at the theater. The run ends June 3rd so you don't have many chances left to enjoy it.
This is a very solid production, lit up by a perfectly tuned performance by Betsy Graver as the seemingly gormless Mandy Bloom who, by the end of the play, may be the closest thing it has to a moral center – or maybe just a moral. Deborah Sherman is also very good as she inhabits Sarah Goodwin, the injured war photographer who is the story's main protagonist. GableStage regular Gregg Weiner gets to play a lower-key role than has been his usual, Sarah's friend and photo editor Richard Erlich, and as usual makes the most of what he's got. Steven Garland has in some way the hardest job in this play as James Dodd, Sarah's long-term boyfriend, and I still can't decide what it was about him that made me wonder if he was quite right for the part; he has a certain softness that on the one hand works for someone shell-shocked, who wants some calm if not outright escapism, but on the other hand doesn't seem to fit his backstory as a veteran war reporter. The dramatic engine in the story is the tension between James's desire to settle down a bit and Sarah's drive to overcome her injuries and get back on the horse of disaster journalism. We're teased with hints of one work-related problem of James's that turns out not to exist, and blindsided with another personal problem that the characters seem to work through, only to be confronted with something harder to compromise.
To the extent there is a fault in this production it is, I think, primarily in the script, which has some issues towards the end – yes, even if it got a Tony nomination on Broadway. While Sarah and Richard are re-working their relationship (against the backdrop of Mandy and Richard's) the play examines the morality of doing 'I am a camera' journalism (rather than disaster relief), with a sideswipe at fluff journalism. Sarah's flirtation with worry about her role as witness rather than helper seemed to me to be sudden and something out of character, although Ms. Sherman made the best of it that one could. And the very final scene, although completely believable, is nonetheless a bit abrupt.
But never mind. So Lebron didn't score 40 points. It's still a great thing to have a theater this good in our back yard.