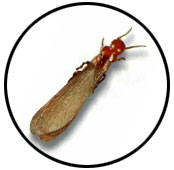 In a couple of weeks, my house is going to be covered with a thing like a circus tent.
Before that happens, I have to take out all the food, medicines, houseplants, and anything else that could end up in a mouth, as that tent is going to be pumped full of noxious toxic gas.
Yes, we have drywood termites. The flying kind. Indeed, judging from the number of tents sprouting in the neighborhood, every other house is infested.
We went through all this about ten years ago, and it seemed amazingly hard, a once-in-a-lifetime mess. A wiser colleague warned me that tenting every ten years or so was just an incident of life in south Florida. I didn't believe him, but he was prophetic. And after hurricanes, teenagers, and the odd medical crisis, it doesn't seem so bad.