Guy Fawkes Day is a good time to say that people in this country take the rule of law too much for granted.
Police Battle Lawyers in Pakistan: Police armed with tear gas and clubs attacked thousands of protesting lawyers in the city of Lahore today, and rounded up lawyers in other cities as the government of the Pakistani president, Gen. Pervez Musharraf, faced the first signs of concerted resistance to the imposition of emergency rule.
Life is better for everyone when lawyers battle in court.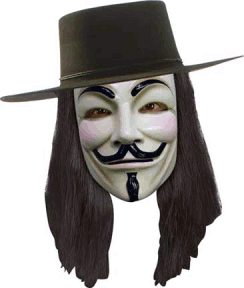 We have many of the good things we have because people have some basic faith in the system — or, even if they don't, most figure that the deal they are getting is not-bad enough (or the expected value of the future deal is good enough), that it's not worth rocking the boat.
The election of 2000 challenged that faith for many. I, for one, have avoided teaching constitutional law in part because I don't know how to teach Bush v. Gore in a way that wouldn't produce a dangerous cynicism in my students.
Cynicism about the rule of law is especially dangerous for beginning law students because it too-easily becomes an excuse to avoid learning the close textual work that good lawyering requires. Told that there's nothing going on but the Realist story, too many will conclude that, if 'it's all politics,' why bother? I do believe that the law retains some substantial autonomy, and thus we have the rule of law — much of the time. If, however, I believed that it was in fact the case that all cases were political, I would accept that I have a duty to tell my students that truth at all relevant times. That isn't what I believe. But it is politics sometimes, and if that happens too often, we pay for it.
Underpinning much of the elite and popular faith in the rule of law is some belief in democracy. Democratic legitimacy underwrites acceptance of the use of force that is sometimes needed to keep the peace. It is why people pay their taxes. That legitimacy is under stress at present (and, not coincidentally, voluntary tax compliance rates are in decline).
Almost two-thirds of the nation wants the US involvement in Iraq's civil war to end soon (or at least within a year) and the number keeps climbing. Yet, the narrative in DC is not about the complex mechanics of getting our soldiers out in one piece and taking the Iraqi people who've helped us out of danger, but instead about invading Iran, a sure sign that something deep is broken somewhere.
Which explains, even if it doesn't necessarily justify, signs of rising civil disobedience.
And that takes me to Crane Brinton's Anatomy of Revolution. My copy is missing, but what I remember most clearly is that among the patterns he distilled from his study of disparate revolutions is first that "revolutions occur during times of rising expectations" and second that a regime tends to fall when its contradictions become intolerable for the intellectuals and functionaries who support it. (If you're not familiar with this very readable classic, here's a link to one denatured online summary.)
We're not exactly in a period of rising expectations — 74% of those polled say the country is 'headed in the wrong direction'. And the clerks are not as yet treasonous, although even some of the most loyal refuse to go to Iraq.
Indeed, if anything, too many intellectuals are still in the tank, in a manner reminiscent of the original La Trahison des Clercs (1927). Recall Julien Benda's argument: he critiques a 19th and early 20th century world in which intellectuals become apologists for the crass nationalism and warmongering of militaristic regimes. That, of course, bears no comparison with current circumstances in which our national commentariate and our leading national media figures speak so dispassionately about political and military matters.