I like to tell prospective and incoming law students that real-life law is nothing like what you see on TV. But the trouble is, we live in Miami, a place where much more often than it should be real-life law is just as wacky as what you see on TV.
Take for example this account of the past five days in the annals of Miami Law:
(1) a murder trial in which the witnesses give credible evidence that detectives threatened them (including in one case threatening to take the witness's kids into care) in order to get them to give perjured testimony incriminating the defendant — but the increasingly pathetic-looking Miami-Dade State Attorney's Office says it has no intention of investigating whether the cops are bent;
(2) another murder case that lacked a body now features a lead detective who, on the witness stand, was made to admit to sleeping with a key witness.
(3) A local lawyer who runs a massive ticket-fixing business shot and killed an armed mugger by using the handgun he keeps in the glove compartment of his black Mercedes.
In other local traffic news, six-year-old girl foils carjacker by beating on him


"I smacked him on the head with my book".
(4) Local Hollywood Police Chief James Scarberry blew a three-year-long FBI sting operation into corruption by officers on his force by blabbing about it to at other cops and local politicians. Not surprisingly, word quickly got out to the prime suspects who immediately tried to resign, stopping the investigation into their associates in its tracks and wasting a giant amount of police work. When first confronted about it the Chief told the press a series of lies, which he's gradually been recanting.
(5) A prominent local builder was jailed yesterday, charged with embezzling public funds to buy a sculpture of a giant watermelon slice. He very vigorously contests the charges, and was photographed giving the finger to a reporter.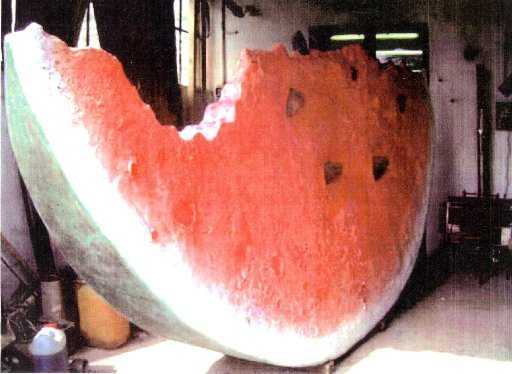 Local slice of life
(6) Cops arrest blogging photojournalist for taking crime scene photos.
(Post inspired by Justice Building Blog.)