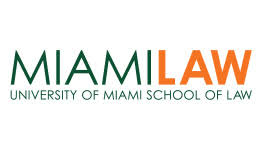 New job opportunity for a Technology Fellow just posted:
The University of Miami School of Law seeks to appoint an Inaugural Law & Technology Resident Fellow.

This will be an exciting opportunity as the Fellow will join a vibrant community of scholars and practitioners working at the intersection of law and technology. Miami-Dade County and the surrounding Tech Hub is enjoying a dramatic expansion in technology-related startups and finance.  MiamiLaw has an established J.D. degree concentration in Business of Innovation, Law, and Technology (BILT). Faculty have set up numerous technology-related programs including Law Without Walls (LWOW) and the We Robot conference.

MiamiLaw currently offers courses in: AI and Robot Law; Blockchain Technology and Business Strategies; Digital Asset and Blockchain Regulation; Digital Transformation Services: Business & Legal Considerations; Dispute Resolution; Technology and The Digital Economy; E-Sports; Electronic Discovery; Genomic Medicine, Ethics and the Law; Intellectual Property in Digital Media; Introduction to Programming For Lawyers; NFTs: Legal and Business Considerations; Scientific Evidence; Tax Issues Relating to Movement of Foreign Tech Founders Into Miami in the 21St Century; Space Law: Regulating and Incentivizing Private Commercial Activities in Outer Space; a Startup Clinic and a class in Startup Law and Entrepreneurship; The Digital Economy and International Taxation–National and International Responses; Law, Technology, and Practice; Law, Policy & Technology; and Tiktok, Twitter and Youtube: The Legal Framework Governing Social Media.

We aim to enhance these substantial and growing technology-related activities by hiring a Law & Technology Resident Fellow. We seek a recent law graduate interested in studying and teaching about the impact artificial intelligence (AI) will have on the legal field, from the impact on legal education to the impact on legal practice and legislative reform.  We are specifically interested in candidates who would connect our students and our faculty both with new technologies and with tech startups in Miami.

In order to provide a space for training of and experimentation by the law school community, the initial Fellow also will be responsible for designing and then setting up an Artificial Intelligence Technology Lab—which could be real or virtual—that will, among other things, support faculty in their courses and research. The Fellow would be expected to teach one technology-related course, subject to approval by the Vice Dean and the law school's Curriculum Committee, once the Lab is functional.

Applicants must have completed their J.D. degree prior to the beginning of the fellowship. Experience with Artificial Intelligence as it pertains to law and law practice, or optionally a degree in Computer Science or a related field, would also be helpful. The fellowship begins on August 1 and lasts for one year; a Fellow in residence may apply for a second year of support.

The University of Miami offers competitive salaries and a comprehensive benefits package including medical and dental benefits, vacation, paid holidays and much more.

Applications should include the following:

A cover letter indicating your interest in the Resident Fellowship
A resume or CV
A law/graduate school transcript
Two letters of recommendation

Applications for the Law & Tech Resident Fellowship must be received no later than July 1, 2023.

Please apply online and submit an application in electronic form to Carolina Morris cmorris@law.miami.edu).

The University of Miami is an Equal Opportunity Employer – Females/Minorities/Protected Veterans/Individuals with Disabilities are encouraged to apply. Applicants and employees are protected from discrimination based on certain categories protected by Federal law. Click here for additional information.
Come work with us. It will be fun! And I'd love to have on more person here in law & tech — someone able to devote full-time to thees fascinating issues.