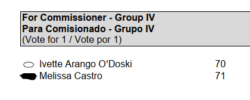 May I suggest a vote for Melissa Castro in the runoff election for the upcoming Coral Gables Commission election? The reasons haven't changed from my earlier recommendation: although Ivette Arango O'Doski is the sort of youngish, smart, person it is good to see get involved in local politics, she's running with, and bankrolled by, the wrong crowd–her supporters and backers are more pro-development than I feel comfortable with.  Plus, while the election in the first round of Ariel Fernandez to the seat in Group V is a blow to the attempt to create a pro-development Mayoral electoral and money machine, it would be good to finish the job.
Absentee ballots have dropped. If you are planning to vote by mail, I'd send yours back right away given the state of the mails. Far better, though, I think to vote early, or drop off your ballot in person at the early voting site.  The early voting and early drop-off opportunities are at the War Memorial Youth Center,  405 University Drive.  Early voting and dropoff will be next weekend only: Saturday, April 22, and Sunday, April 23 from 7a.m. to 7p.m.  I'm very happy to report that instead of hiding the drop box on the back side of the building as they had done a year ago, for the first round of voting this year at least it was right on the front side, just a bit East of the main entrance, on University Drive. Much easier to find!
If you plan to vote in person on election day April 25, 2023, here is the Coral Gables General Biennial Runoff Election Polling Place List.
Turnout in the main election was an uninspiring 20.92%.  Normally turnout drops significantly in run-offs. That means that if you do vote, your ballot counts that much more than usual.