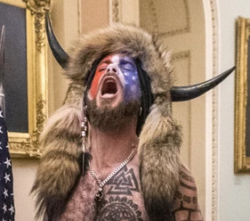 When I saw the storming of the Capitol live on TV (we had turned on the TV on a whim to see the certification of the vote, not suspecting anything untoward) I had some trouble taking it sufficiently seriously: a man cosplaying as shaman? Really? Surreal, yes, but the end of an era? Rioters moving almost single file between the ropes in a visitors' area a bit like a tour group? Surely not an invading army. It wasn't until we saw the violence, the noose, and then read about the parts we had not seen that I started thinking 'Beer Hall Putch".
And then, slowly, the drip, drip of revelations–there was a lot more planning for a coup than it had seemed. And Vice President Mike Pence's finest hour might not have been just refusing to play along with a coup, but his refusal to get into a car and let the Secret Service drive him away from the Capitol.
Well, it's a year later (unless "every day is Jan. 6th now"?). Things don't look so great. As Donald Kagan says, Our constitutional crisis is already here. Was 2021 "The year accountability died"? Will the Jan 6 Committee be enough? It's a lot to ask of a committee.
Meanwhile, at least we can still laugh.
Image from Meme Generator via Crooks & Liars