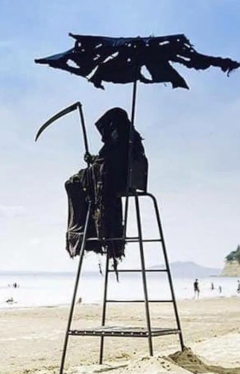 We don't know for sure if some of these fatalities would have happened anyway, but it's highly likely that the number would have been lower if we required masks in schools.
Politico, Child Covid deaths more than doubled in Florida as kids returned to the classroom:
A POLITICO analysis of weekly Covid-19 reports from the Florida Department of Health shows that 10 children under the age of 16 died from Covid-19 from July 30 to present as the Delta variant — which is much more transmissible — became the dominant strain. Previously, a total of seven kids died from the virus from the beginning of the pandemic through July, amounting to a span of more than 15 months.

The state now has seen 17 deaths, and American Academy of Pediatrics Florida President Lisa Gwynn said many of them may have had underlying medical conditions when they became infected.

"Having said that, it doesn't mean we're not worried sick about it," Gwynn said during a Sept. 3 interview. "We're all worried because we're not sure what's going to happen in the future."

The child deaths come as Florida finally sees an easing in the surge of new infections, which ravaged the state over the summer. Florida accounted for one in five infections nationwide over the summer, which stretched an already strapped nursing workforce and jammed hospitals to the point where some facilities used office boardrooms as overflow wards.

But the deaths since July 30 also occurred as hundreds of thousands of kids in Florida began returning to classrooms and amid the ongoing fight between DeSantis and school districts over student mask mandates.

…

The more than 46,000 people in Florida who have died from Covid-19 since the pandemic began includes over 36,000 seniors aged 65 and older. While the 17 child deaths may seem low compared to the older adults, the increase of six deaths in August is an inevitable result of more kids becoming infected, according to officials at the Wolfson Children's Hospital in Jacksonville.

Mobeen Rathore, Wolfson's chief of pediatric infectious disease and immunology, said more children are being admitted to intensive care units and getting intubated.

"Unfortunately, some of these children will not survive," Rathore said.

…

… [O]therwise healthy kids are now facing multisystem inflammatory syndrome about a month after they become infected by the virus. The syndrome, also known as MIS-C, is an inflammation of the heart, lungs, kidneys, brain, skin, eyes, or gastrointestinal organs, according to the U.S. Centers for Disease Control and Prevention. The syndrome can also affect individuals with mild cases.
By the way, in case you are a Floridian who was wondering what the COVID rates are like where you live, fuggedaboutit, as the Governor doesn't want you to know: How many people have died of COVID-19 in your Florida community? State won't tell you,
COVID-19 killed one Floridian an average of about every four minutes last week, the second worst in the nation.

But for those wanting to know how many people are dying every day in their own communities – good luck. The state of Florida won't say. Nor will most local public health officials. At least one county acknowledged it doesn't know. Federal websites show either incomplete or inconsistent data for Florida's counties.

We know that Florida last week reported 2,345 COVID-19 deaths for the state. But, almost uniquely throughout the United States, Florida has not reported deaths at the county level for three months. The intensity of this worst wave of the pandemic in a given locale is anyone's guess.

The state Department of Health says to look to the Centers for Disease Control and Prevention's website for county death tolls. But the number reported on one CDC webpage undercounts Florida's tally by thousands, and the CDC's most prominent map of county-level COVID-19 deaths shows only blanks for each of the state's 67 counties.

The Florida Department of Health once reported county death tolls each day before switching to weekly reporting in early June. Spokeswoman Weesam Khoury gave no indication the department intends to return those local death statistics to its weekly reports …

…

When pressed on why the data don't appear in the state's weekly reports, Khoury replied, "If you don't like those answers, I don't know what else to tell you."