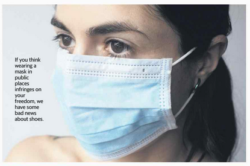 In a vastly unsurprising piece of news, the Centers for Disease Control and Prevention has published two studies that show masks can help protect children from COVID-19 and prevent large outbreaks in schools. The result holds even when there is a high level of community transmission and the highly contagious delta variant is present.  (Spotted via Daniel Politi, Slate, CDC: Schools With Mask Mandates See Fewer COVID-19 Outbreaks. )
Of course here in Florida, the DeSantis presidential campaign strategy of killing off as many Floridians as it takes to satisfy the cravings of the red-meat Trumpist GOP means that the state of Florida punishes school districts that put their students first and require masks.
Not only that, but in the latest development, DeSantis and his new weird, weird, state surgeon general, have announced that asymptomatic Florida students exposed to COVID do not have to quarantine — they can attend school if they want — presumably also without masks?
So, once again, DeSantis supports a pro-COVID policy.  And the state suffers for it.