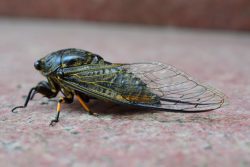 I don't know if this is an eight-year thing, like some sort of intellectual cicada, but we've been here before. Back in 2013, major newspapers published a bunch of articles purporting to show that a J.D. was a bad investment financially. This led to a purported (and in my view slightly over-done) rebuttal, The Economic Value of a Law Degree, by Michael Simkovic and Frank McIntyre; Simkovic in particular then took to the blogs to defend his corner.
Now, we're back to it again: today the Wall Street Journal published Law School Loses Luster as Debts Mount and Salaries Stagnate, which generalizes from undoubtedley true tales of people who borrowed too much ($300,000 in some cases, a chunk being undergraduate debt), and were not able to find jobs after law school that allowed them to pay it back in a reasonable time, or at all.
And, like clockwork, here's Michael Simkovic with a reply, Wall Street Journal blames law schools for COVID economy (Michael Simkovic), the core of which is the economist's perennial question: compared to what? Simkovic basically argues that, yes, more recent law school grads have had it tough, but less tough than people who didn't get law degrees.
In fact, the story last time was more complicated than it appeared from the newspapers. And yes, law school tuition is too damn high, but that's the rack rate and law schools discounted a lot back then and do even more of it now. More generally, at least eight years ago, whether a J.D. was worth it turned out to be much more complex issue than journalists seem to be willing to accept.
I wrote a bunch of blog posts trying to sort through the mess then, and I think they're still relevant now. A key conclusion was that for law graduates who paid full freight and ended up in the bottom quartile of the law-graduate income distribution [NB: that is not the same as being in the bottom quarter of the class in a given school–this is a national earnings number, and one I suspect skews hard towards grads from bottom-feeding law schools] law school might be a bad financial investment. Another point was the obvious one, that when you start law school it's pretty hard to know if you will be one of those people, and some of the folks who borrow a ton might be the very people with an inflated estimate of their prospects and abilities.
Here are some links to my posts in the first round:
In his latest, Simkovic notes two key facts that he says undermine the WSJ article's analysis. First, during the COVID recession, there has been a program of national forbearance on loan repayment. Second,
During this period, law graduates and other highly educated workers have faired relatively well, at least judging from the imperfect data that is currently available (see also here and here). Lawyers continue to earn high salaries, their employment numbers have not appreciably declined, and unemployment rates in legal occupations, at 3 percent, are lower than in most fields.
At first glance, this seems plausible. But it does not change three facts. First, there were and are a group of people who borrow a lot, especially those with substantial debt from college. A subset of that group do not get the high-paying jobs they were counting on after law school (and an even smaller subset can't find legal work at all) and find themselves in various forms of financial difficulties ranging from not making payments to a long-term debt overhang that limits future choices in life. Second, these sub-groups are a small minority of law graduates, although the number for whom a J.D. does not turn out to be profitable could be up to a quarter of all graduates, depending on various assumptions. Third, current law school practices do not protect this group from what you might call the risk of buyer's remorse–of course, that sort of protection against one's own life choices is generally rare.
It's possible to imagine some partial solutions. For example, I'd like to see educational debt more easily discharged in bankruptcy; right now discharge is much too hard.
And, there might be things law schools could do on their own too, but they are not cheap. For example, wouldn't it be cool if some law school offered students the option of a substantial refund–say 50%?–to students who (1) had a high debt load and (2) did very poorly in their first semester or maybe their first year and (3) decided to drop out after they got their grades. It's true that we don't know that low grades mean low salaries–indeed there are many anecdotes of people doing badly in law school and then making a mint as a trial lawyer or an entrepreneur–but that has to be a higher-risk strategy for a student. Who knows, maybe the law school could ask for a small surcharge in exchange for this form of insurance. But I dream.