This Twitter thread is surreal.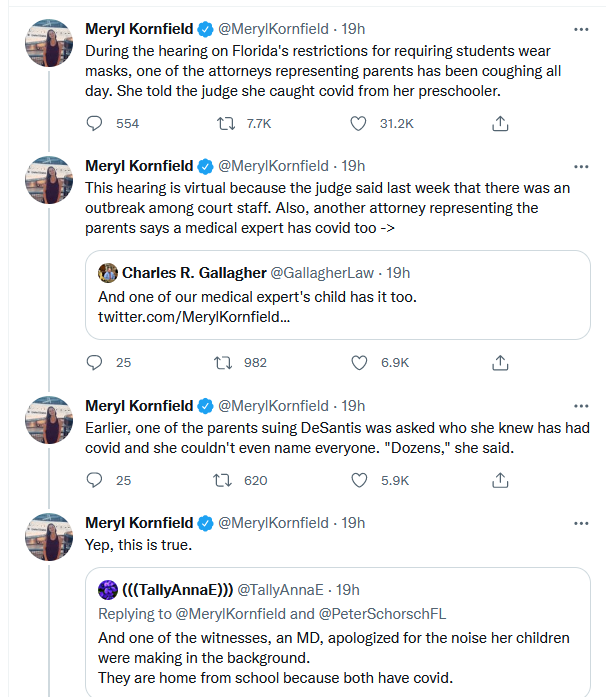 Surely in any rational polity, one where country (or state) mattered more than party, the calls would be ringing to impeach Governor DeSantis for his campaign to cause the children of Florida to infect their (often elderly, or immunocompromised, or – this being Florida – unvaccinated) vulnerable relatives, thus leading in many cases to hospitalization and death.
But this is, demonstrably, not a rational polity.  [Update: see Masking Is Effective] So the question, blunt and indecorous as it may be, must be asked: how many dead people will it take before impeaching DeSantis becomes sufficiently necessary that people demand it of our gerrymandered and Republican-controlled but, one assumes, still-human state legislature?
Recall that the Governor's policy is not simply one of inaction in the face of pandemic: it is to very actively block local government attempts to prevent the spread of the disease, and to punish (now via his tame Board of Education) those who have the moral courage to act in the face of his attempts to intimidate them.
What's that you say? There is no chance that the Trumpist Florida House of Representatives would ever risk angering its base — the kind of people who boo Trump himself when he encourages vaccination — by even tolerating a suggestion that ur-Trumpist DeSantis's pro-death policy was in any way objectionable? I agree that is the most likely story. But 'a week is a long time in politics'. And the movement has to start somewhere.
UPDATE (8/24): A new poll shows that a large majority of the people of Florida think DeSantis's stand on mask rules is nuts.  That doesn't inevitably mean that (despite being immoral) it's a bad tactic to get the Republican nomination, as Republicans agree with DeSantis's view 72 – 24 percent.  It's everyone else who loathes them: Democrats support school mask requirements 98 – 1 percent, independents support them 63 – 32 percent.