CDC graph improved by Down With Tyranny: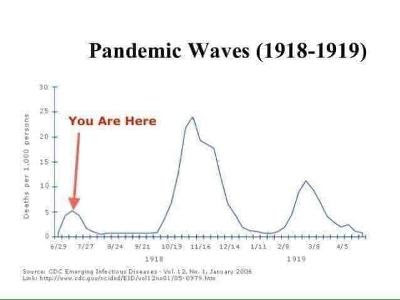 All too credible with so many states deciding to give up on anti-pandemic rules while COVID-19 is still just as widespread
To be fair, no one knows what the true R0 (the rate of reproduction of the infection) is for the US; indeed in a country this size one might more reasonably speak of different R0s for different parts of the country. But even if R0 is currently just below one, which it might be given the US infection rate has plateaued and even trended down a tiny little bit, that's thanks to all the state-imposed 'social distancing'. Change the rules and the infection rate surely will go back up again.
I live in a state in which all but the very southern part is, our governor says, about to "reopen". Looking at that graph at the top, it seems all too likely that we're not learning anything from history.