Today is the last day to register to vote in the upcoming Florida primary, or to change party registration in order to vot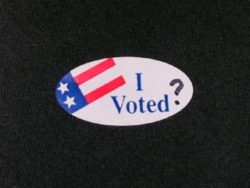 e in a different party's primary. Go to www.registertovoteflorida.gov to register to vote or to change party affiliation.
The Florida primary is on March 17, two weeks after 'Super Tuesday.' If you're already registered to vote, you may choose to enroll in vote-by-mail. Go to www.votefromhome.miami to request a vote-by-mail ballot. Note that this request will remain in effect until you countermand it.
Florida is very free and easy with postal ballots, which I think undermines democracy in several ways, notably that it makes ballot fraud easier (e.g. 'ballot harvesting' — a South Florida specialty — and forgery), and that it undermines the secret ballot (e.g. making it easier to sell votes since the seller can prove how he voted, and also enabling pressure from family members demanding to see the ballot).  But postal voting can be very convenient.  Whether they count the ballot is of course a matter of faith.
Remember: Florida has closed primaries, which means you must be registered as a Democrat to vote in the Democratic Presidential Preference Primary, or a Republican to vote in Republican primaries. If you are registered as an independent (or no party preference), you don't get to vote in any party's primary.
There is a state constitutional amendment making its way through the system to require open primaries, but I'm not a great fan of it.