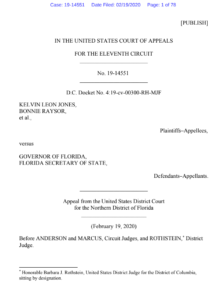 Today the 11th Circuit issued a per curiam decision on Kelvin Leon Jones, et al. v. Governor of Florida, et al., the Amendment 4 felon-voting case, which holds that strict scrutiny applies and that the Florida Legislature's decision to require felons to pay all the fees and charges associated with their cases is, in the case of indigents, a violation of Equal Protection.
It's a nicely done opinion but per curiam or not it has got en banc written all over it. The panel was Judge R. Lanier Anderson III (nominated — to the then-5th Circuit — by Jimmy Carter), Judge Stanley Marcus (nominated by Ronald Reagan to the District Court, and by Bill Clinton to the Court of Appeal), and Judge Barbara Rothstein (District Judge, Western District of Washington, sitting by designation; appointed by Jimmy Carter).
All three judges were appointed to their current seats by Democrats, but the 11th Circuit as a whole skews Republican. All three have senior status–I didn't even know that appellate courts allowed a majority of senior judges on a panel, much less all three. One is a visiting Judge from Washington State (fresh from a visit to Washington, D.C., which may have lead to the incorrect attribution of her home court on the first page of the opinion). All this spells e-n b-a-n-c to me. So we haven't heard the end of this case yet. That said, the panel's affirmation of (most of) the injunction might last through to the 2020 election.