On April 9 Coral Gables will have an election for Mayor and for one of the Commission seats. Coral Gables uses a City Manager system, so the Mayor is only a bit more than first-among-equals, with a substantial ceremonial role. Oddly, Commissioners get a four-year term, but the Mayor only gets a two-year term.
Coral Gables Mayor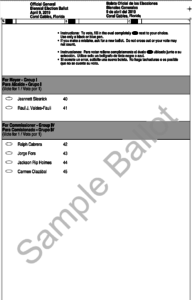 The Mayoral race pits incumbent Raul Valdes-Fauli against challenger and former Commissioner Jeannett Slesnick. Slesnick lost by 187 votes the last time they went head-to-head.
I think this is a pretty easy call.
Valdes-Fauli hasn't been quite as bad as his predecessor, but I'm still not a great fan. Slesnick will be very good for the overall makeup of the Commission. In the past five or so years, the Commission has signed off on what have turned into a pair of massive development projects, and also some other quite substantial ones. Five years from now, better or worse, this will be a very different city. Slesnick is more attuned to the issue of slowing additional growth, and coping with the growth we're about to get, and thus would be a valuable voice on the Commission.
Reasons to vote against the incumbent include: 1) over-enthusiasm for development (I get why some was needed; I worry we overdid it); 2) his failure to get to the bottom for months — a year? — of the baseless campaign to sideline now-Police Chief Ed Hudak, 3) his enthusiastic support for putting cameras, including useless license plate readers, everywhere in the Gables.
I think also Slesnick wouldn't be quite as callous as is the incumbent, who in effect said that trailer park residents on land Coral Gables plans to annex will just have to go, although the reality isn't likely to be great either.
So VOTE SLESNICK
Coral Gables Commission Group 4
There are four candidates in this race: Ralph Cabrera, Jorge Fors, Jackson Rip Holmes, and Carmen Olazábal. Deciding who to vote for is a relatively simple process of elimination. In reverse alphabetical order:
4) Carmen Olazábal has a great c.v. She was a terrible interim City Manger. And I mean that in an epic sense. The critical moment of her tenure is when she participated in the editing of a memo by Police Chief Ed Hudack about a controversial and botched piece of median landscaping that obstructed need traffic sightlines. Olazábal apparently now disputes the facts, but as I recall them they were pretty much the way local political operative and sometime journalist 'Ladra' reports them. Bonus sleaze: appointing a police chief who would spy on a critic of the Commission. Absolutely cannot vote for her.
3) Jackson Rip Holmes. Mr. Holmes has been running for Coral Gables Commission for as long as I've been paying attention and has, if I recall, sometimes garnered hundreds of votes. He faithfully participates in candidate debates. He sometimes makes sense — indeed, frighteningly, he has been making more sense recently when he talks about the likely destructive effects of the new mega-mall four blocks south of Miracle Mile, the CBD, where Holmes has a shop. But he isn't a serious candidate, even if he is my brother's biggest fan.
2) Jorge Fors is the new face. That alone made him seem attractive. Then I started learning about him. My disenchantment began with one of his early mailers, which tried to fearmonger about the riffraff that would contaminate the great "character" and "safety" of life here if Coral Gables annexes the so-called 'Little Gables', a nearby parcel that … gasp … has a trailer park. Never mind the project has been in the works for over a year, the county has approved it, and that it's probably too late to stop it. Never mind that I find something attractive about the idea of extending Coral Gables services to poorer people instead of always only annexing richer communities to stuff the tax base. It was an ugly, coded mailer, and took a lot of the shine off this candidacy.
Then i learned about Fors's false claims for a Homestead exemptions over a seven-year period. That's bad behavior for anyone, and awful behavior for a lawyer (J.D. Cum Laude, St. Thomas University School of Law). It's unacceptable in a political candidate. Stop there. Don't even get into the issue of Fors's driving record…Gables candidate Jorge Fors has history of traffic tickets, arrests.
1) So that leaves Ralph Cabrera, a local political veteran. In past elections I've been equivocal about Cabrera (2013), and I've been for Cabrera (2015). I'm not I guess his biggest fan, but at least Cabrera has the right sort of enemies (whoever the anonymous cowards are). And he sure looks better than the competition.
So VOTE CABRERA