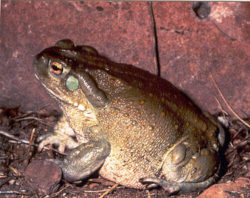 'Thousands' of poisonous Bufo toads are 'besieging' Palm Beach gardens, a neighborhood a bit over two hours drive north of me. CBS 5 has the details (warning: audio pops up immediately).
Bufo toads secrete a 'milky substance' from their heads that is highly toxic to people — and especially likely to get into your pets. (No word yet if these are the type whose poison has psychoactive properties. I just imagine spring breakers rubbing toads on their bodies and getting run over…)
We've had floods, tornadoes, now frogs. Biblical plagues anyone?