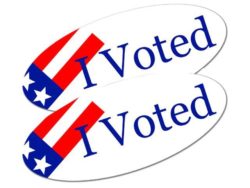 As of this morning, the Miami-Dade Elections Dept. online ballot checker showed no sign that the Elections Dept. had received my mail ballot — even though I posted it at a local Post Office eight days ago.
So, trepidatiously, I went off to vote.  I imagined officious claims that I was trying to vote twice, ending in a provisional ballot. In the event, however, it was all a a happy anti-climax.  The official called over someone to explain what to do, which involved punching some buttons, and voilà! I am issued a nice new giant ballot.
Apparently even if they had my by-mail ballot, they would allow me to vote in person as the system is programmed to erase the earlier ballot in that case.  Which sort of makes me wonder how that works.  As I understand it, the state releases the early vote totals pretty quickly after polls close.  That leaves just two possibilities: either (1) they have my name attached to my ballot up until the polls close, and can pull it before they count it; or (2) they have my name attached to my vote even after an initial count, and can deduct my vote from the total before releasing it.  Neither possibility suggests that ballot anonymity is preserved very well, does it?  Although in case (1) I guess it could be anonymous once it's counted.