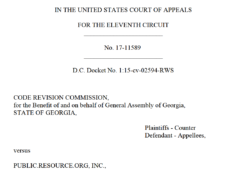 The 11th Circuit ruled on Friday that law, and critical annotations to it, cannot be copyrighted. This bit is particularly good:
The general rule that legislative codifications are uncopyrightable derives from an understanding of the nature of law and the basic idea that the People, as the reservoir of all sovereignty, are the source of our law. For purposes of the Copyright Act, this means that the People are the constructive authors of those official legal promulgations of government that represent an exercise of sovereign authority. And because they are the authors, the People are the owners of these works, meaning that the works are intrinsically public domain material and, therefore, uncopyrightable.
The Electronic Frontier Foundation, of which I'm an Advisory Board member, represented Public.Resource.Org and continues to represent them in their ongoing struggle to open access to privately drafted standards incorporated by reference in statutes and regulations.