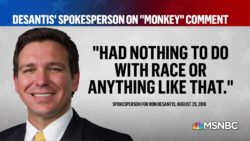 Some people (including a commentator on this blog!) have said it's unfair to suggest DeSantis's "monkey" comment was an intentional (or unintentional) racist dog whistle. That's his campaign's line too.
DeSantis's personal history is suggestive here. So you be the judge:
Ron DeSantis, the Trump-endorsed congressman who won Tuesday's GOP primary for Florida governor, is an administrator on an active Facebook group where conservatives share racist, conspiratorial and incendiary posts about a litany of targets, including black Americans and South Africans, the "deep state," survivors of February's massacre at a Florida high school, immigrants, Muslims and, in recent days, John McCain.

…

The Facebook group, simply named Tea Party, has nearly 95,000 members, and users must join the group to post or comment. The banner for the group is an image of the Confederate, Christian and Gadsden flags flying alongside the flags of the U.S. and Israel. (It isn't affiliated with the conservative group Tea Party Patriots.)
I'd say that at the very very least this is such a radical insensitivity to racism plus a bit of enabling behavior (being an admin for the group) as to count as the thing itself, especially for a person in public life.