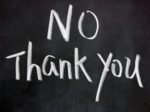 Many of us predicted long ago that the future of journalism was online micropayments – pay fractions of a cent an article instead of being bombarded with ads.
What we didn't see coming was this strategy by Salon: if you want to keep your ad blocker, let us use your computing cycles to mine for cryptocurrencies.
The security issues are left as an exercise for the reader.