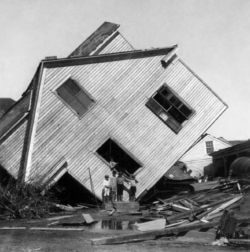 So, what do you do if your roof comes off during a hurricane?
Presumably you can't go anywhere, because there's a hurricane out there.  So do you hide under the table? Go sit in the car in the garage? Hide in a closet with louver doors?
Just asking for a friend.
(Couldn't find a photo I liked of roof damage, so I went with this Wikimedia picture from the Great Galveston Hurricane of 1900.)
Latest hurricane wind predictions: