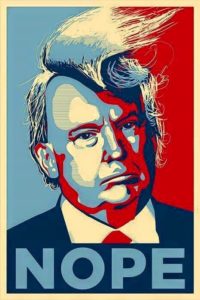 So much of what I read about Trump is same-y: This is Not Normal; Is he past his use-by date?; Comey; GOP will never do what is needed; Comey; Cabinet will never do what is needed; GOP wavers; Is this the beginning of the end? and so on. I don't myself feel any need to add to this buzz, necessary precondition though it may be before the nation leaps into the acid vat of division that is an impeachment. I don't even feel much need to link to it, it's so readily available everywhere.
Then there is Martin Longman's Trump is Being Taken Apart, Step By Step; I'm not sure I agree with it, but it is at least different from the pack. Here's a taste:
The ordinary way to minimize the damage from Trump's leak would have been to quarantine knowledge that it had happened at all. This is for a variety of reasons. First, while there's a fear the Russians will help ISIS track down the source of the information, there's no certainty they will do so. Telling the whole world what happened almost assures that the informant's life is at risk. Second, intelligence officers don't want possible sources to know that the president can't be trusted not to leak to our adversaries because it makes it difficult to recruit them. Advertising this makes their jobs immeasurably harder. Third, by telling the Israeli public what happened, it makes it more challenging for the Israeli government to share information with us. It would have been easier to patch things up with the Israelis if we had limited knowledge of what happened to a few key, reliable figures in their intelligence services and their cabinet. Yet, the intelligence community immediately revealed what Trump had done, and that the Israelis were the aggrieved party.

Another way of putting this is that the damage control plan from the beginning showed no signs of being an ordinary kind of plan. Every step is counterproductive. None of it makes any sense unless the real damage control plan is to remove Trump from power. If the conclusion is that the problem isn't limited to a single blunder, but is systemic, any damage control plan that goes no further than triage and cleanup won't be adequate.

I've been writing about this slow-moving coup in various ways for months now because its not well understood and it's the most consequential thing going on in this country and the world right now.
Worth a look.