The New Times calls Rep Allen West's letter the "dumbest thing ever written on congressional stationery".
Congressman and possible senator Allen West lives in his own serene and strange reality where, no doubt, his recent response to a local Islamic group makes perfect sense.

In early August, the Council on American-Islamic Relations (CAIR) sent a 679-word letter to West urging him to cut ties with "anti-Islamic extremists. CAIR singled out Bridgette Gabriel, Pamela Geller, Robert Spencer, and Rev. Neil Dozier as Muslim-haters with whom West has shared stages.

"Muslims protect and serve our great country and are afforded equal protection under law," the letter read. "We shouldn't have to defend our rights to worship freely or participate in the governing of our society."

Soon afterward, CAIR received the following letter, which was first reported by CBS4. The Muslim group sent us a copy, which we've embedded below. We believe it might be the dumbest thing ever written on congressional stationery.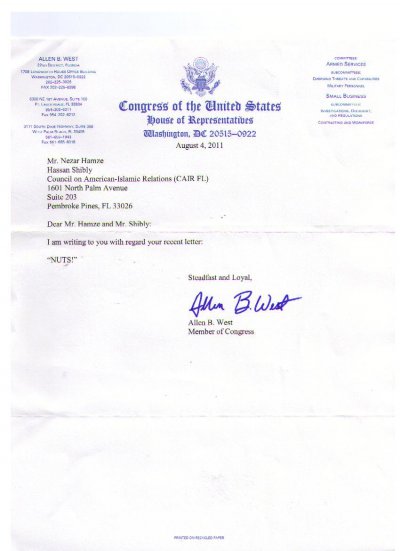 I imagine that West, a somewhat forcibly retired Lt. Colonel, was seeing himself as channeling General Anthony McAuliffe who famously replied "NUTS" when asked to surrender by the Germans who had encircled him in what became known as the Battle of the Bulge.
Think of that: Rep. West sees getting a polite letter from Islamic-Americans asking that he respect their civil rights, and avoid sharing a stage with people leading a hate movement against them, as something akin to being encircled by Nazis in WWII.