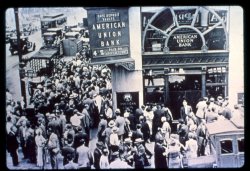 If the US hits the debt ceiling, will there be a run on the banks?
And if there is, would the dept ceiling impose any limits on the FDIC's ability to raise funds in the event of a bank failure?
The two questions seem the same to me: if there is confidence that the FDIC will have all the funds it needs, there will not be a run on the banks. But if there is any doubt, there will be, creating the very problem…
So, does anyone know if the FDIC would be limited or not?