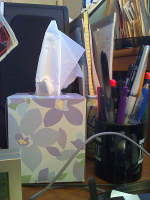 I made it back safely from Chicago, but somewhere in the journey I caught a tremendous cold and have done little but sleep since my return.
It always seem to me particularly pathetic to have a cold in the (sub)tropics. It's over 80° out, and I'm in here sniveling.
However, I'm delighted to learn that while I was snoring, both (all three?) wars ended, and we are now in 'peacetime'. I suppose that explains why there is no war surtax.