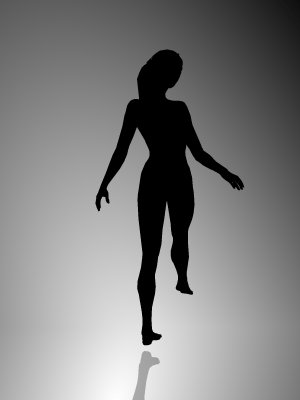 According to the Australian newspaper article where I got this picture, it is a "Right Brain vs Left Brain test,"
do you see the dancer turning clockwise or anti-clockwise?

If clockwise, then you use more of the right side of the brain and vice versa.

Most of us would see the dancer turning anti-clockwise though you can try to focus and change the direction
I'm a little dubious, because it doesn't explain the mechanism, and I think most people who know me would say I'm very thoroughly left-brained. But I saw the figure turning clockwise.
Focusing didn't change that. Shaking my head up and down like a raving loony got me to a point where the dancer seemed to be flipping back and forth and then briefly counter-clockwise, before reverting to clockwise.
[Original draft 1/19/2009.  In preparation for my blog redesign, I found draft blog posts that somehow never made it to publication. This is one of them.]
2011: Still see it going clockwise.