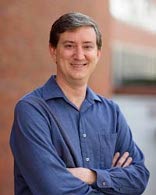 Federal Trade Commission Chairman Jon Leibowitz today announced that Ed Felten, one of the best technology & society people I know, will be the FTC's first ever Chief Technologist.
Federal Trade Commission Chairman Jon Leibowitz today announced the appointment of Edward W. Felten as the agency's first Chief Technologist. In his new position, Dr. Felten will advise the agency on evolving technology and policy issues.

Dr. Felten is a professor of computer science and public affairs and founding director of the Center for Information Technology Policy at Princeton University. He has served as a consultant to federal agencies, including the FTC, and departments of Justice and Defense, and has testified before Congress on a range of technology, computer security, and privacy issues. He is a fellow of the Association of Computing Machinery and recipient of the Scientific American 50 Award. Felten holds a Ph.D. in computer science and engineering from the University of Washington.

Dr. Felten's research has focused on areas including computer security and privacy, especially relating to consumer products; technology law and policy; Internet software; intellectual property policy; and using technology to improve government.

"Ed is extraordinarily respected in the technology community, and his background and knowledge make him an outstanding choice to serve as the agency's first Chief Technologist," Leibowitz said. "He's going to add unparalleled expertise on high-technology markets and computer security. And he also will provide invaluable input into the recommendations we'll be making soon for online privacy, as well as the enforcement actions we'll soon bring to protect consumer privacy. We're thrilled to have him on board."

Dr. Felten currently is a part-time consultant for the FTC. He will start full time as Chief Technologist in January.
This is good. Congratulations to the FTC, and thank you to Ed for doing this.