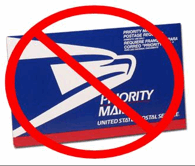 I bought something, and on Monday the seller sent me an email ("Subject: Your package is on its way") confirming it had shipped by Priority Mail. They included a tracking number.
The USPS has a web page that lets you track the progress of your package.
So, where's my package?
Label/Receipt Number: xxxx xxxx xxxx xxxx xxxx xx
Scheduled for Delivery: Wednesday, September 22, 2010
Class: Priority Mail®
Service(s): Delivery Confirmation™
Status: Out for Delivery or Available at PO Box

Your item is out for delivery or available at a PO Box at 8:27 am on September 22, 2010 in KEY BISCAYNE, FL 33149.
But I live in Coral Gables. And the mail came this afternoon. Without my package.
Most likely, some postal worker figures out that it belongs over here and tomorrow I learn its been re-sorted into my zip code. But what if it was delivered to a PO Box? What if someone has it?
And, more fundamentally, am I better off knowing it's in Key Biscayne rather than having some generalized concern that it sure seems to be taking its own sweet time getting here? Not obviously.