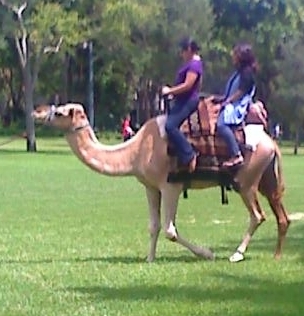 One of the joys of campus life is that there is just about always something going on. There are lectures I'm too busy to attend. Concerts I mostly miss. Seminars I try to get to (we had a good one today).
And then there are the weird and wonderful things you pass by on the way to class. As I was loping towards Torts this afternoon, I came up what I first thought was a pair of horses being walked around the center of campus. But no. It wasn't a horse, except in the sense that it's what a horse would look like if designed by a committee.
There was a little stand that people could climb on in order to get on their backs, and have a little pony ride, or whatever the Dromedary equivalent might be. Apparently they were there to publicize Israel, or Jewish Studies, or something to do with Israel.
"Where did you get the camels?" I asked someone with a clipboard.
"We rented them," was the answer.
Camels-R-US? Rent-a-camel? Camel Depot?
The mind would boggle, if its legs weren't already taking it off to beat the necessity defense into submission.
Random camel fact: Camels are not kosher.