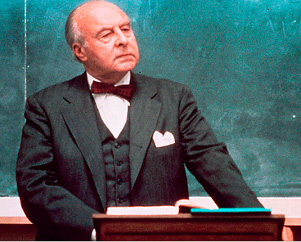 This is a new one.
After class last Friday, I first took questions from a long line of in most cases needlessly anxious first year students, then stopped to chat with a group of students who seemed to have stayed behind in the classroom to study. I asked them how it was going, the usual questions.
In the course of that conversation I got a complaint that I've never had before. It seems, they all agreed, that I wasn't mean enough. How were they going to be able to cope with mean people in the future if I didn't toughen them up? They expected law school to be tough, and were they getting the full experience?
It has to be said that the other professors in my section are particularly nice people. If there's a candidate for the bad guy, the scary one, it clearly has to be me. I'm the one teaching in a suit (the Dean has her own unique style that I will not attempt to characterize; Patrick Gudridge wears ties and jackets, but frequently the very professorial ones. George Schatzki doesn't wear a tie and sports a pony tail.)
But I don't want to be mean. Tough, sure; rigorous and exacting, you bet. But it's not meant to hurt.
Anyway, back to Friday: Slightly taken aback by this critique — one reason I stopped teaching first semester first years about a decade ago is that they found me too scary — I deflected the issue by saying that it reminded me of the story about the sadist and the masochist.
The masochist says to the sadist, "Please hurt me." And the sadist says, "No."
Then again, maybe I've just gone soft.